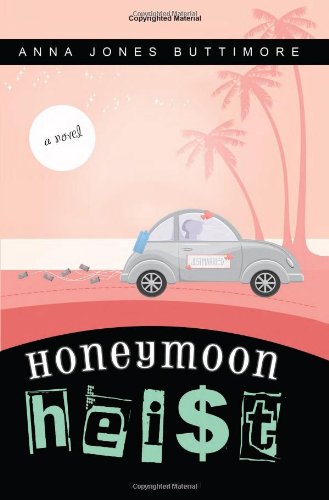 Publisher's Note:
Every newlywed couple worries about bringing baggage to a marriage. But when Rodney and Claire Hewlett open a suitcase and discover a small fortune in cash while honeymooning in Spain, they find themselves in a deadly race to the light-studded Eiffel Tower. This thrilling tale will take you by plane, train, and boat across Europe in an adrenaline-pumping ride that won't end until the very last page.
This book was sent to Compass Book Ratings for review by Cedar Fort
Honeymoon Heist
by Anna Buttimore
Overall Review:
Author Anna Jones Buttimore takes readers on an unusually eventful honeymoon in her novel, Honeymoon Heist. At first glance, Claire is a sarcastic bride who doesn't seem the least bit enamored with her tolerant and devoted groom, Rodney. But as the story progresses and we learn more about their backgrounds, the characters become likable, even charming. Although this mysterious adventure is somewhat improbable, it is fun to predict what is coming, making this book an entertaining, enjoyable story. This book is recommended for members of the LDS church, as those not of this faith may be puzzled by certain details.
Content Analysis:
There was no profanity whatsoever.

There were some suspenseful scenes throughout the story that included foot chases, car chases, and the threat of guns, though no shootings. In one instance, a main character hits a villain over the head and knocks him out, which includes mention of jagged glass sticking out the back of his head.

There were a couple of vague allusions to non-sexual exposure but it was not offensive. There are some brief, tasteful moments of intimacy between honeymooners, and some comments about previous encounters that were minimal.
Mature Subject Matter:
***
Alcohol / Drug Use:
One character has a problem with alcohol and is referred to as "drunk".
Reviewed By SqueakyCleanReads