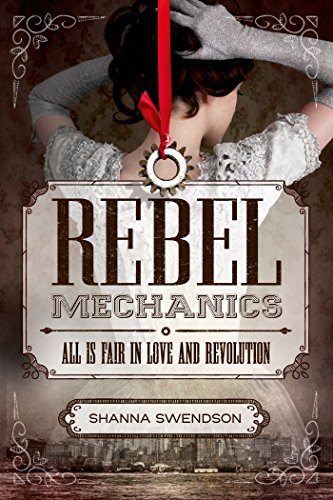 Publisher's Note:
It's 1888, and seventeen-year-old Verity Newton lands a job in New York as a governess to a wealthy leading family--but she quickly learns that the family has big secrets. Magisters have always ruled the colonies, but now an underground society of mechanics and engineers are developing non-magical sources of power via steam engines that they hope will help them gain freedom from British rule. The family Verity works for is magister--but it seems like the children's young guardian uncle is sympathetic to the rebel cause. As Verity falls for a charming rebel inventor and agrees to become a spy, she also becomes more and more enmeshed in the magister family's life. She soon realizes she's uniquely positioned to advance the cause--but to do so, she'll have to reveal her own dangerous secret.
This book was sent to Compass Book Ratings for review by Farrar Straus and Giroux
Rebel Mechanics: All is Fair in Love and Revolution
by Shanna Swendson
Overall Review:
Adored it from beginning to end! Set in 1888 New York in an alternate history where America never broke from Britain due to the power and might of the ruling magister (aka magician) class, this novel has so much to love. While this novel incorporated a magical angle, it was one of the better renditions of steampunk of recent memory; the steampunk element was front and center the entire story. While the revolutionary element kept the story zipping along, the stumbles and relationships of the spirited protagonist, Verity, keep the reader engaged. The author was particularly deft at leaving emotional breadcrumbs for the reader without over-telegraphing every move. Loved the characters (one in particular will remind readers of a certain classic character) and relished every chapter! (Incidentally, fabulous chapter headings.) For once, this reviewer is desperately hoping for a sequel because she was utterly charmed.
While sitting with crossed fingers awaiting another installment of Rebel Mechanics, read Etiquette & Espionage by Gail Carriger to tide you over.
Review of a Digital Advance Reader Copy
Content Analysis:
Profanity/Language: 1 religious exclamation; 2 mild obscenities.
Violence/Gore: Robbery and bandit is hit with bag; policeman backhands a child on the face; character tends to another's severe wound with mention of blood (non-detailed); various discussions of events in the newspaper about banditry, mob activity, etc.; soldiers fire on children in a crowd, injuring untold number; tense scene in which a mob is observed with sounds of breaking glass, etc.; report of revolutionaries and soldiers fighting; sounds of fighting heard; robbery in progress observed; characters are pursued; report of death of a parent from illness and accident.
Sex/Nudity: Character kisses hand; character infers that her mother was unfaithful to her husband and that she is the result of that relationship; character holds and rubs another's hand; hand placed on waist; character strokes another character's cheek; characters kiss upon a few separate occasions.
Mature Subject Matter:
Spying, revolution/uprisings, class conflict, poverty, lying, death of family members, infidelity.
Alcohol / Drug Use:
Charactesr (ages 17 and older?) drink alcohol at a party; social drinking with dinner; character notes that adults and some of the children in the slums appear intoxicated.
Reviewed By Cindy