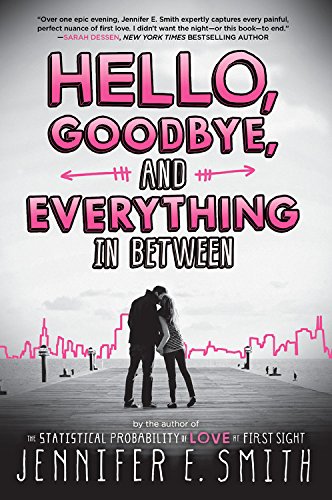 Publisher's Note:
On the night before they leave for college, Clare and Aidan only have one thing left to do: figure out whether they should stay together or break up. Over the course of twelve hours, they'll retrace the steps of their relationship, trying to find something in their past that might help them decide what their future should be. The night will lead them to friends and family, familiar landmarks and unexpected places, hard truths and surprising revelations. But as the clock winds down and morning approaches, so does their inevitable goodbye. The question is, will it be goodbye for now or goodbye forever?

Charming, bittersweet, and full of wisdom and heart, this new irresistible novel from Jennifer E. Smith, author of The Statistical Probability of Love at First Sight, explores the difficult choices that arise when life and love lead in different directions.
This book was sent to Compass Book Ratings for review by Poppy
Hello, Goodbye, and Everything in Between
by Jennifer E. Smith
Overall Review:
Wistful. Sweet. Honest. Hello, Goodbye, and Everything in Between is the latest young adult romance from Jennifer E. Smith. The book's timeframe is a single night before Clare and Aiden head to college on different coasts. Of all of Ms. Smith's books, this novel is probably the most plausible, and the roller-coaster emotions of the characters feel particularly authentic; the angst of beginnings and endings muddled together is deftly captured. Life isn't always clear and often feels like a see-saw and Ms. Smith illustrates the conundrum aptly. This is a book that high school seniors will particularly connect with.
If you adore contemporary young adult romance, than Jennifer E. Smith should definitely be on your go-to list. If you are just discovering Ms. Smith, one of her best is The Statistical Probability of Love at First Sight.
Review of a Digital Advance Reader's Copy
Content Analysis:
Profanity/Language: 4 religious exclamations; 3 mild obscenities; 1 derogatory name; 8 scataological words.
Violence/Gore: There is a fist fight resulting in injuries to the parties involved and to those who try to intervene; brief description of bandaging/treating injuries sustained in the fight.
Sex/Nudity: Teenage characters kiss upon several separate occasions; teenage characters hold hands; teenage characters touch face(s); teenagers hug; teenagers reminisce about kissing; reference to couples making out in the corner; brief, non-detailed recollection about an incident in which it is inferred/implied/understood that teenagers in high school had sex (but never actually explicitly said); teenagers lie on couch together and scene ends with strongly implication that they will have sex (no details).
Mature Subject Matter:
Relationships, teenage-parental conflict.
Alcohol / Drug Use:
Characters joke with one another about going to bars when they are in college; there is a party where teenagers are drinking; teenager is drunk and picked up by the police after passing out; teenagers briefly reminisce about stealing cigars from a parent and smoking them.
Reviewed By Cindy