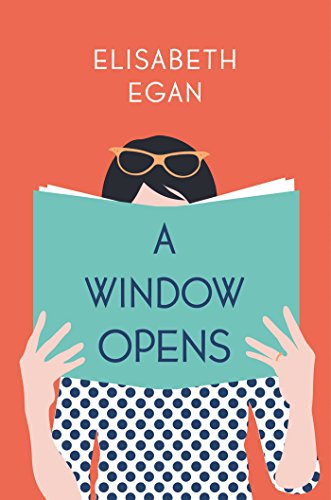 Publisher's Note:
*People's "Summer's Must-Reads"*

*"A winning, heartfelt debut." —Good Housekeeping*

*Publishers Weekly "Best Summer Reads"*

Fans of I Don't Know How She Does It and Where'd You Go, Bernadette? will cheer at this "fresh, funny take on the age-old struggle to have it all" (People) about what happens when a wife and mother of three leaps at the chance to fulfill her professional destiny—only to learn every opportunity comes at a price.

In A Window Opens, beloved books editor at Glamour magazine Elisabeth Egan brings us Alice Pearse, a compulsively honest, longing-to-have-it-all, sandwich generation heroine for our social-media-obsessed, lean in (or opt out) age. Like her fictional forebears Kate Reddy and Bridget Jones, Alice plays many roles (which she never refers to as "wearing many hats" and wishes you wouldn't, either). She is a mostly-happily married mother of three, an attentive daughter, an ambivalent dog-owner, a part-time editor, a loyal neighbor and a Zen commuter. She is not: a cook, a craftswoman, a decorator, an active PTA member, a natural caretaker or the breadwinner. But when her husband makes a radical career change, Alice is ready to lean in—and she knows exactly how lucky she is to land a job at Scroll, a hip young start-up which promises to be the future of reading, with its chain of chic literary lounges and dedication to beloved classics. The Holy Grail of working mothers?an intellectually satisfying job and a happy personal life?seems suddenly within reach.

Despite the disapproval of her best friend, who owns the local bookstore, Alice is proud of her new "balancing act" (which is more like a three-ring circus) until her dad gets sick, her marriage flounders, her babysitter gets fed up, her kids start to grow up and her work takes an unexpected turn. Readers will cheer as Alice realizes the question is not whether it's possible to have it all, but what does she?Alice Pearse?really want?
A Window Opens: A Novel
by Elisabeth Egan
Overall Review:
This book is like the fiction equivalent to Primates of Park Avenue. I actually began to get the stories a little mixed up in my head. One thing that kept me grounded was knowing that this book was fiction, while Primates was not. This book is a splendid combination of technology, books, media, and family life.
Alice Pearse, the protagonist of this wonderful book, is a mother who wants to not only provide for her family, but also be there for them when they need her most. She slowly started to realize, throughout the course of this book, that one way or another, she would have to take measures to prioritize. One can't be everything for everyone after all. I really liked the fact that Alice began the story having a job as a book reviewer for a magazine, and when that job fell through, she took a position at a company that reminded me of Amazon, or some other digital book downloading platform. This book revolved around the love of reading, even if it was a bit subtle at times.
The fictional glimpse into the life of a bustling family like the Pearse's was also a favorite part of this book for me. Made up of a husband, a wife, a nanny, and three little ones, the Pearse family was always on the go. I could hardly keep track of them at times, and it was no wonder Alice started to feel quite drained. I was reminded of Emily Giffin's writing--the people portrayed in this book seemed to have it all, and yet they still found something to be disappointed by. This book is the perfect choice for any woman who is feeling a bit let down by their current reality. It is a good reminder that even though your life might seem boring and mundane, we have a lot to be thankful for.
Review of an Advance Reader Copy
Content Analysis:
Profanity/Language: 4 religious exclamations; 1 mild obscenity; 5 derogatory names; 8 scatological words; 1 anatomical term; 8 F-Word derivatives.
Violence/Gore: A character has cancer and is mentioned to be very sick and living his last days; a character dies from cancer, this is observed by his daughter and family; a child is almost hit by oncoming traffic.
Sex/Nudity: A woman suspects her husband may be cheating on her; a man tries to get his wife to be romantic in bed; a husband and wife kiss briefly; a woman recalls a boy trying to get her to kiss him when they were minors; sex is referred to in a conversation; a very young girl is mentioned to be observed nude; a character is referred to as "sexy"; video games are mentioned to have sexual content; a discussion is had about sex; a couples massage is mentioned; an elderly man is mentioned to be seen nude; a woman remembers trying to see a nude person in a house.
Mature Subject Matter:
Death of a parent, personal crises, alcoholism, cancer.
Alcohol / Drug Use:
Adults drink wine; an adult man drinks alcohol excessively; vodka is drunk by an adult; adults smoke; a man admits he chews tobacco; using a bong is mentioned; marijuana use is mentioned; a woman drinks wine; adults smoke; beer bottles are mentioned to be empty and recycled; a man and woman smoke together.
Reviewed By Lydia