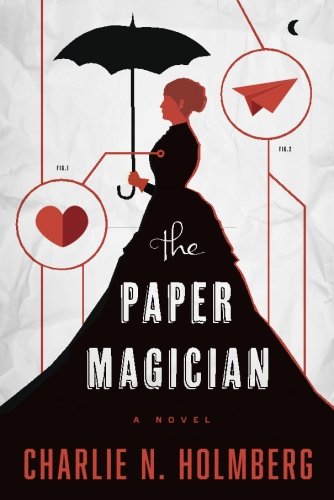 Publisher's Note:
Ceony Twill arrives at the cottage of Magician Emery Thane with a broken heart. Having graduated at the top of her class from the Tagis Praff School for the Magically Inclined, Ceony is assigned an apprenticeship in paper magic despite her dreams of bespelling metal. And once she's bonded to paper, that will be her only magic…forever.
Yet the spells Ceony learns under the strange yet kind Thane turn out to be more marvelous than she could have ever imagined—animating paper creatures, bringing stories to life via ghostly images, even reading fortunes. But as she discovers these wonders, Ceony also learns of the extraordinary dangers of forbidden magic.
An Excisioner—a practitioner of dark, flesh magic—invades the cottage and rips Thane's heart from his chest. To save her teacher's life, Ceony must face the evil magician and embark on an unbelievable adventure that will take her into the chambers of Thane's still-beating heart—and reveal the very soul of the man.
From the imaginative mind of debut author Charlie N. Holmberg, The Paper Magician is an extraordinary adventure both dark and whimsical that will delight readers of all ages.
Short-Listed for the 2015 ALA Fantasy Reading List
The Paper Magician
by Charlie N. Holmberg
Overall Review:
A delightful opening to a wonderful trilogy! With a hint of steampunk, plenty of magic, and an exciting adventure, Holmberg weaves a compelling tale. Ceony is a complex, well-written protagonist, and her world is fascinating. Readers will empathize with the dilemma she faces of being forced to apprentice in a craft not of her choosing, and will enjoy her journey to appreciate her new vocation.
Holmberg is an excellent writer who delivers vivid scenes with a unique style. Fortunately, it doesn't end here; the rest of the series awaits!
Content Analysis:
Profanity/Language: 2 religious exclamations; 3 mild obscenities; 2 derogatory names.
Violence/Gore: A character is thrown across the room by the force of a blast; a character magically removes another character's heart by pulling it out of his chest; a bowl of bloody water sits next to a medical patient's bed; severed human hands are magically animated--one attempts to strangle a character; a character bites her tongue, drawing blood; a character magically travels through another character's heart, becoming bloodstained in the process; a character is forcibly pinned to the wall by another character's arm; a character punches the wall in anger; a character slaps another character in the face (twice); a character bites her lips, drawing blood; a character falls down, sustaining minor injuries; a character sees dismembered bodies with few details; a character draws her own blood with a knife across the palm; in a dreamlike state, a character is throws across a room (twice); a magically animated toy animal is crushed; a character is dragged by the hair; a character digs her fingernails into another character's arm; a character tells the story of finding a friend dead by suicide (slit wrists); a character has blood thrown at her; a character throws a knife at another character; a character is threatened at knifepoint; a character fights off an attacker; a character is cut climbing on jagged rocks; a character is stabbed in the face with some detail; a character shoots another character in the chest--the wound is magically healed.
Sex/Nudity: A male character tries to reach under a woman's skirt; characters touch hands (twice); characters kiss briefly; characters embrace.
Mature Subject Matter:
Suicide, divorce.
Alcohol / Drug Use:
None
Reviewed By Leslie