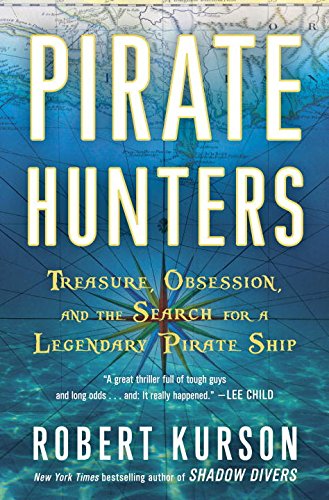 Publisher's Note:
A thrilling new adventure of danger and deep-sea diving, historic mystery and suspense, by the author of the New York Times bestseller Shadow Divers

Finding and identifying a pirate ship is the hardest thing to do under the sea. But two men—John Chatterton and John Mattera—are willing to risk everything to find the Golden Fleece, the ship of the infamous pirate Joseph Bannister. At large during the Golden Age of Piracy in the seventeenth century, Bannister should have been immortalized in the lore of the sea—his exploits more notorious than Blackbeard's, more daring than Kidd's. But his story, and his ship, have been lost to time. If Chatterton and Mattera succeed, they will make history—it will be just the second time ever that a pirate ship has been discovered and positively identified. Soon, however, they realize that cutting-edge technology and a willingness to lose everything aren't enough to track down Bannister's ship. They must travel the globe in search of historic documents and accounts of the great pirate's exploits, face down dangerous rivals, battle the tides of nations and governments and experts. But it's only when they learn to think and act like pirates—like Bannister—that they become able to go where no pirate hunters have gone before.

Fast-paced and filled with suspense, fascinating characters, history, and adventure, Pirate Hunters is an unputdownable story that goes deep to discover truths and souls long believed lost.
This book was sent to Compass Book Ratings for review by Random House
Pirate Hunters: The Search for the Lost Treasure Ship of a Great Buccaneer
by Robert Kurson
Overall Review:
Pirate Hunters: The Search for The Lost Treasure Ship of a Great Buccaneer is a very cool book. Author Robert Kurson follows two men, John Chatterton and John Mattera, as they hunt for a seventeenth-century merchant captain turned pirate and his notorious ship. The book has a page-turning plot and is a mix of history, drama and adventure. Kurson shares the almost unbelievable stories of the two modern-day adventurers, as well as their back-breaking efforts to find pirate treasure. Readers will discover that there's more to treasure hunting than meets the eye -- from archival library visits to the tedious process of mapping sonar blips in the water. One of the highlights of the book is learning more about pirates, their battles, strict code, and fascinating outlook on life. Pirate Hunters is an entertaining and informational read!
Review of Advance Review Copy
Content Analysis:
Profanity/Language: 10 mild obscenities; 6 religious profanities; 6 derogatory names; 14 scatological words; 8 anatomical terms; 15 f-word derivatives.
Violence/Gore: A few verbal threats made by mob members; frequent secondhand reports of violence involving hanging, plundering, war injuries, battle, and drowning; multiple scenes of violence involving a character being beaten with a bat, kids fist fighting, gunshot wounds, pirate raids and battle between pirate ships; a smoke bomb destroys property with no casualties; a few brief, non-detailed scenes of violent death include mobsters being shot, pirate acts of torture, 9/11, hanging and the ill effects of drowning; a few brief scenes of intense violence involving pirate battle and mobster beatings; two extended scenes of intense violence, each a page in length, involving pirate battle and how to amputate appendages.
Sex/Nudity: A few incidents of kissing; a few non-sexual depictions of nudity occur when a character moons others; a few sexual references and reported accounts of sexual activity at brothels.
Mature Subject Matter:
Death of family members, cancer, the Vietnam War, September 11th, robbery/breaking and entering, bribery, mob bosses and related mob violence, pirate battles, pirate torture, amputation in battle.
Alcohol / Drug Use:
Characters frequently drink; a few characters are described as 'drunk'.
Reviewed By Rachel