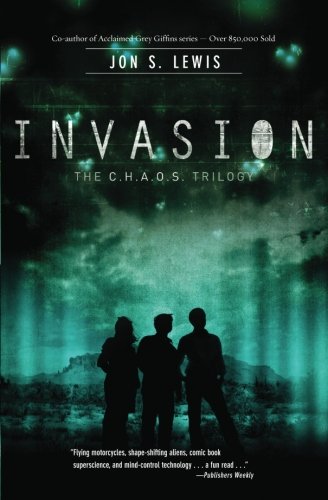 Publisher's Note:
He didn't ask to be a hero, but now all that stands between us and chaos . . . is Colt.
Colt McAlister was having the summer of his life. He spent his days surfing and his nights playing guitar on the beach with friends. He even met a girl and got his first car. But everything changes when his parents are killed in a freak accident.
He's forced to leave his old life behind and move to Arizona with his grandfather. The only person he knows at the new high school is a childhood friend named Dani. And Oz, a guy he's sure he's never met but who is strangely familiar.
But what if his parents' death wasn't an accident? His mother, an investigative reporter, was going to expose a secret mind-control program run by one of the world's largest companies. Before she could release the story, what if agents from Trident Biotech made sure she couldn't go public?
Vowing to uncover truth, Colt is drawn into a secret world of aliens, shapeshifters, flying motorcycles, and invisible getaways.
The invasion has begun.
This book was sent to Compass Book Ratings for review by Thomas Nelson
Invasion
by Jon S. Lewis
Overall Review:
Jon S. Lewis takes the reader on an exciting adventure in this first installment of The C.H.A.O.S. Trilogy. Invasion introduces the reader to a new superhero and like most other superheroes, his story begins with a family tragedy. While the story might remind readers of a comic book they have read, the plot has some unique elements to give it originality. Lewis found a great balance of suspense and action and even included a little romance on the side that is sure to broaden the audience. Excellent characters, from the heroes and their sidekicks to the evil villains the reader can't wait to be taken down, the plot reminds one of The Paladin Prophecy and Lewis's writing is similar to Andrew Klavan's. A great introduction to this series and I look forward to continuing the story in Alienation and Domination.
Content Analysis:
Profanity/Language: None
Violence/Gore: Many (30) brief incidents including war-like video games; character jokes about unhealthy food causing death; character felt like he was getting in a coffin; characters worried that another will get killed; character wants to strangle another; verbal threat; character might get killed; secondhand report that alien was hit by bomb but saved; secondhand report of assassination; movie of war training; secondhand report of animal attack resulting in death; reference to sea creatures attacking and killing humans; two secondhand reports of parents dying; secondhand report of character dying of cancer; war violence in comic book; secondhand report of city getting destroyed in war; reference to alien having markings carved into skin; reference to war story in book; secondhand report of character's feet amputated; secondhand report of character having chip implanted so she can be controlled; characters discuss death and war; characters learning to fight and one gets nose broken; character attacked with non-life threatening injuries sustained; organized alien fights; aliens attacking humans and aliens dying; vehicle explosion.
Two extended incidents including attempted murder resulting in severe injuries; humans attacked by aliens resulting in death.
Sex/Nudity: Few (10) brief incidents including kissing; hugging; arm around; holding hands.
Mature Subject Matter:
War, death, murder, reference to cancer, alien invasion of earth.
Alcohol / Drug Use:
Characters killed in car accident allegedly by drunk driver; wine served at restaurant; character makes reference to drunk father; character drinks at entertaining event.
Reviewed By Jenny