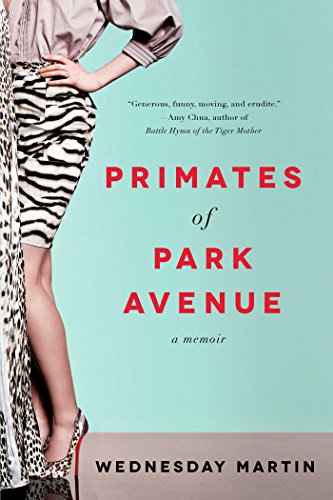 Publisher's Note:
Instant #1 New York Times Bestseller!

Like an urban Dian Fossey, Wednesday Martin decodes the primate social behaviors of Upper East Side mothers in a brilliantly original and witty memoir about her adventures assimilating into that most secretive and elite tribe.

After marrying a man from the Upper East Side and moving to the neighborhood, Wednesday Martin struggled to fit in. Drawing on her background in anthropology and primatology, she tried looking at her new world through that lens, and suddenly things fell into place. She understood the other mothers' snobbiness at school drop-off when she compared them to olive baboons. Her obsessional quest for a Hermes Birkin handbag made sense when she realized other females wielded them to establish dominance in their troop. And so she analyzed tribal migration patterns; display rituals; physical adornment, mutilation, and mating practices; extra-pair copulation; and more. Her conclusions are smart, thought-provoking, and hilariously unexpected.

Every city has its Upper East Side, and in Wednesday's memoir, readers everywhere will recognize the strange cultural codes of powerful social hierarchies and the compelling desire to climb them. They will also see that Upper East Side mothers want the same things for their children that all mothers want—safety, happiness, and success—and not even sky-high penthouses and chauffeured SUVs can protect this ecologically released tribe from the universal experiences of anxiety and loss. When Wednesday's life turns upside down, she learns how deep the bonds of female friendship really are.

Intelligent, funny, and heartfelt, Primates of Park Avenue lifts a veil on a secret, elite world within a world—the exotic, fascinating, and strangely familiar culture of privileged Manhattan motherhood.
Primates of Park Avenue: A Memoir
by Wednesday Martin
Overall Review:
At first glance, I didn't think this book would be my cup of tea. Then I started seeing it on blogs, Goodreads, recommendations, and a woman requested it at the library where I work. All of a sudden this book was hot, and I just so happened to have a copy on my Kindle. So I started reading. Guess what? I could hardly put it down.
Something about the life of a woman living in New York, navigating a life that I can hardly even imagine, really appeals to me. The glamour, the glitz--everything in Wednesday Martin's life seems to hold more importance than anything I could ever come up with in mine. Not only is she a mother, but she is also an observer of her peers. I loved how she people-watched, and then reported on her "discoveries". She talks about mothers and women a lot, and how they live the high-life in NYC, buying up purses that cost an exorbitant amount, working out for hours at a time, being in certain cliques and clubs; the list goes on and on.
This book delivered everything I expected, and more. I was a bit surprised at how Wednesday changed her tune from frowning upon the way the women around her lived, to becoming one of them herself. There were a few times that I thought maybe she and I had the same mindset, and then she would go and call her husband, hysterically inquiring whether the purse she wanted was really legit. This book is a great way for women like me, who live in a small town, to get a glimpse of what life in a big city would be like. If you are looking for an entertaining read, that everyone is buzzing about, this book will fit the bill!
Content Analysis:
Profanity/Language: 5 religious exclamations; 9 mild obscenities; 2 derogatory names; 1 anatomical term; 1 offensive hand gesture; 1 F-Word derivative.
Violence/Gore: Animals are mentioned to be killed in the wild; an analogy is made about animals threatening each other; a group of boys get in a slight scuffle; a married woman considers aborting an unwanted baby; a woman has a miscarriage and describes her thoughts and feelings; children are mentioned to die, no detail is given; miscarriages are discussed; a baby is referred to, dies of SIDS
Sex/Nudity: A woman has breast augmentation done; a woman is mentioned to be sexually mature; a woman is mentioned to breast feed, flash of skin briefly described; a woman leaves her husband for a woman; porn is mentioned; sex is mentioned and referred to; an extramarital affair is referred to.
Mature Subject Matter:
Divorce, marriage infidelity, miscarriage, loss of a child, personal crisis.
Alcohol / Drug Use:
Adults drink champagne; a man is referred to as "cigar chomping"; a woman is mentioned to turn to drugs and alcohol; a woman mentions binge drinking.
Reviewed By Lydia