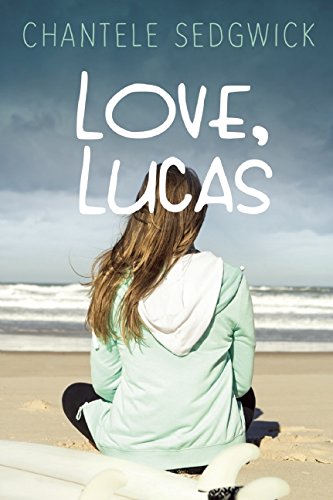 Publisher's Note:
A powerful story of loss, second chances, and first love, reminiscent of Sarah Dessen and John Green.

When Oakley Nelson loses her older brother, Lucas, to cancer, she thinks she'll never recover. Between her parents' arguing and the battle she's fighting with depression, she feels nothing inside but a hollow emptiness. When Mom suggests they spend a few months in California with Aunt Jo, Oakley isn't sure a change of scenery will alter anything, but she's willing to give it a try.

In California, Oakley discovers a sort of safety and freedom in Aunt Jo's beach house. Once they're settled, Mom hands her a notebook full of letters addressed to her—from Lucas. As Oakley reads one each day, she realizes how much he loved her, and each letter challenges her to be better and to continue to enjoy her life. He wants her to move on.

If only it were that easy.

But then a surfer named Carson comes into her life, and Oakley is blindsided. He makes her feel again. As she lets him in, she is surprised by how much she cares for him, and that's when things get complicated. How can she fall in love and be happy when Lucas never got the chance to do those very same things?

With her brother's dying words as guidance, Oakley knows she must learn to listen and trust again. But will she have to leave the past behind to find happiness in the future?
This book was sent to Compass Book Ratings for review by Sky Pony Press
Love, Lucas
by Chantele Sedgwick
Overall Review:
The ultimate spring or summer (really any season!) romance novel for YA readers, Love, Lucas, by Chantele Sedgewick will have you longing to breathe in salt water air and feel warm sand between your toes.
Told through first person narrative by female teen protagonist Oakley, she relays a tender saga of the loss of one love and the gaining of another. With her brother Lucas gone, Oakley's grief begins to overwhelm her until she meets the sweet and easy-going Carson. Aided by letters her brother had written to help navigate her life after he is gone, Oakley begins to realize there can be hope on the horizon after the sorrow of loss.
"Lucas taught me so many things about myself. Before he got sick, when he was sick, and even now. He wasn't afraid to do things. He wasn't afraid to just be himself. He saw the good in everything. And from reading his notebook everyday, his happiness and the optimistic way he looked at the world is starting to rub off on me. I miss him"
The writing style is simple, almost with a childlike innocence, but the simplicity only adds to the genuinely heartfelt issues that are dealt with by teenage Oakley. Managing feelings of isolation, abandonment, traumatic family misfortune, and bereavement (these are all heavy topics), that seem to be offset by the charming brother-sister dynamic, which is moving, and the issue of first love, that is sincerely sweet.
A youthful more subdued from of a Nicholas Sparks novel, Love, Lucas is perfect for a young reader looking for a contemporary romance minus the graphic language and erotic affection that can impede this YA genre.
Simple. Sweet. Sincere. Love, Lucas is a serenade that will delight a juvenile's senses and leave you longing for the beach.
Content Analysis:
Profanity/Language: 1 scatological word.
Violence/Gore: Character insists they're not suicidal; characters relay how they received past injuries, mention of stitches and broken bones; character informs another character how a particular sea mammal has been hunted to near extinction; description of wounded animal who has been caught in a blade; character teases another character that a male character needs to be kicked in the genitalia; extended frightening scene (about 2 pages) character is attacked by an animal, character must punch animal to ward it off; loss of limb with blood and gore mentioned after attack; extended frightening scene (about 1.5 pages) character contemplates suicide, almost drowns.
Sex/Nudity: Character mentions they've never been kissed; the word "hook up" is used once; character watches a couple kiss (2x); male character escorts female character to front porch after date (romantic); female character notices male character's physique (about 5x); a brand of surf board wax called "Sex Wax" is mentioned; characters walk the beach and notice couples holding hands or cuddled up under blankets (perhaps being intimate?); male and female character lie down in same bed, male character teases that female character should spend the night, he would not take advantage of her; several (about 20) brief incidents in which male and female character hold hands, embrace, and/or kiss.
Mature Subject Matter:
Grief/bereavement of death of a loved one, divorce, individual is emotionally withdrawn, feelings of abandonment.
Alcohol / Drug Use:
Underage party with alcohol served; character informs another character why they do not partake in alcohol or mind alternating substances.
Reviewed By MaryLou