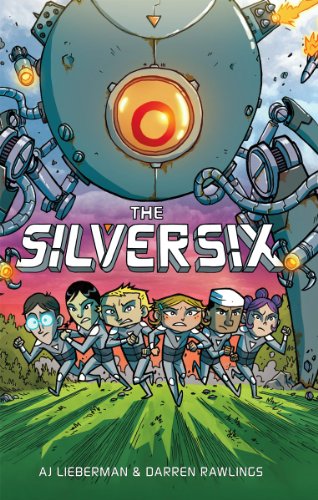 Publisher's Note:
A group of orphans on the run search for a new home among the stars.

When a group of orphans discover they have a common connection, plucky heroine Phoebe leads them in a daring escape from their orphanage to an uninhabited moon. But their idyllic paradise is shattered when the powerful corporate boss who caused the deaths of their parents sends a relentless henchman to track them down. Now, with nowhere left to turn and tired of being on the run, these resourceful kids decide there's only one thing left to do: Fight back!
The Silver Six
by AJ Lieberman
Overall Review:
The Silver Six is a cute, fun graphic novel with likeable characters and great artwork. It's exciting and the action never stops. Kids are empowered to save the world, and they make good friends along the way.
There are a few problems with the book. Tons of scientific terms make the reading a little difficult for younger readers, but the storyline isn't really intended for older readers. The action sometimes is confusing and unrealistic, and the premise is implausible.
That said, I'd recommend The Silver Six to middle grade graphic novel readers who enjoy science and have a healthy sense of inquiry. It's a quick read, and kids may identify with this group of abandoned misfits who find they can accomplish great things together.
Content Analysis:
Profanity/Language: None
Violence/Gore: A vehicle explodes, death of all passengers is implied; characters are shot at but not hit, explosions occur and property is damaged (7 times, 1 extended scene--6 pgs.); a character bumps their head; a character punches another character in the face; characters are caught in a bad storm, receiving scratches and bumps; characters are thrown backward with the force of an explosion; vehicles crash with no known injuries; in an extended scene (5 pgs), characters are involved in the explosion of a bus, receiving minor scratches.
Sex/Nudity: None
Mature Subject Matter:
Loss of family members, political intrigue, kidnapping, hostage situations.
Alcohol / Drug Use:
None
Reviewed By Leslie