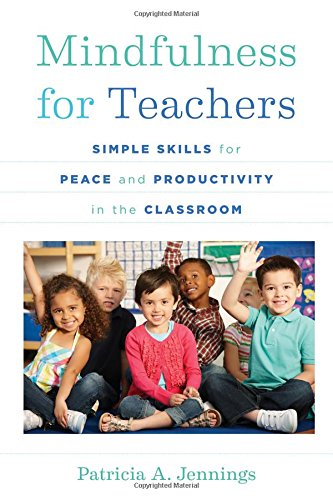 Publisher's Note:
Mindfulness for Teachers is based upon the author's extensive experience as a mindfulness practitioner, teacher, teacher educator and scientist. Drawing upon basic and applied research in the fields of neuroscience, psychology and education, the book offers valuable information about how mindfulness can help teachers manage the stressful demands of the classroom, cultivate an exceptional learning environment, and revitalize teaching and learning.
This book was sent to Compass Book Ratings for review by the Author
Mindfulness for Teachers: Simple Skills for Peace and Productivity in the Classroom
by Patricia Jennings
Overall Review:
Teachers (and parents) who want to feel more peace in their interactions with children should read this book! No matter how much we may love them, some kids can push buttons and cause stress. Mindfulness for Teachers gives readers practical skills and exercises to help remain calm in difficult situations and give challenging situations the kind of attention that leaves everyone uplifted and feeling valued.
This reviewer will be implementing many of the techniques discussed in the book starting on day one of the new school year, and it's sure to make a difference. Children of all ages can benefit from calmer, more peaceful teachers, and they're sure to be better scholars and more productive, happy people as a result. Dr. Jennings has provided educators of all types with an invaluable resource.
Content Analysis:
Profanity/Language: None
Violence/Gore: A child hits another child with his fist; a child is known to have been bitten by a dog; a child jabs another child with a pencil; a child hits another child with a toy; a child is known to have been spanked as a form of discipline; a reference to the September 11 terrorist attacks is made.
Sex/Nudity: None
Mature Subject Matter:
Family problems, divorce, death of family members, poverty and hunger.
Alcohol / Drug Use:
None
Reviewed By Leslie