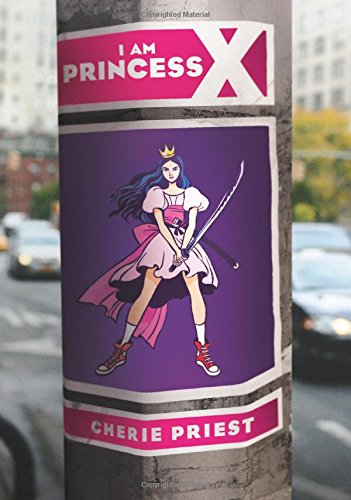 Publisher's Note:
Best friends, big fans, a mysterious webcomic, and a long-lost girl collide in this riveting novel, perfect for fans of both Cory Doctorow and Sarah Dessen, & illustrated throughout with comics.

Once upon a time, two best friends created a princess together. Libby drew the pictures, May wrote the tales, and their heroine, Princess X, slayed all the dragons and scaled all the mountains their imaginations could conjure.

Once upon a few years later, Libby was in the car with her mom, driving across the Ballard Bridge on a rainy night. When the car went over the side, Libby passed away, and Princess X died with her.

Once upon a now: May is sixteen and lonely, wandering the streets of Seattle, when she sees a sticker slapped in a corner window.

Princess X?

When May looks around, she sees the Princess everywhere: Stickers. Patches. Graffiti. There's an entire underground culture, focused around a webcomic at IAmPrincessX.com. The more May explores the webcomic, the more she sees disturbing similarities between Libby's story and Princess X online. And that means that only one person could have started this phenomenon---her best friend, Libby, who lives.
This book was sent to Compass Book Ratings for review by Scholastic
I Am Princess X
by Cherie Priest
Overall Review:
A hybrid story of contemporary mystery/thriller and graphic novel, Cherie Priest's YA debut novel I am Princess X, is quite the creative combo. Told through third person narrative, readers are thrust into the riddled world of teen protagonist May and her quest to find her bestie, Libby, and prove she is alive. Readers, along with May, decipher the webcomic series I am Princess X to find the clues that will hopefully lead to the recovery of Libby. The illustrations from artist Cali Ciesemier that are included in the novel from the webcomic series is an innovative step to help engage and connect readers to the character's crusade.
It may take a while for readers to warm up to May, as at first she comes off as an obtrusively mouthy teen with disdain for parental concern, but the ice thaws a bit when it comes to her loyalty to her BFF. To help May along in her campaign is the supposed tech savvy Patrick. He is a fun counterpart and adds some LOL moments as he and May follow the scavenger-like clues they are given in their royal ambition to recover Princess X.
Stylistically speaking, the writing felt juvenile; unsure if this is intentional on the author's part to appeal to a younger audience or not. The pacing didn't pick up in entertainment value until halfway through, as the characters became closer to their goal and then wrapped up a bit abruptly. The plot theme was original and the concept was awesome, and although the second half of the novel improved, it still didn't gather into the greatness that I had hoped for. The potential was there, but just for captivating in bits and pieces, never truly gripping the reader's full attention throughout the proceedings.
A happily ever after isn't always guaranteed, but that doesn't mean the whole adventure is a bust. Gear up for loyal friends and a creepy predator in this bold endeavor, I am Princess X.
Content Analysis:
Profanity/Language: 14 religious exclamations; 12 mild obscenities; 1 anatomical term; 1 offensive hand gesture.
Violence/Gore: Secondhand report of a car accident and finding a dead body, mildly descriptive; illustration of character firing a gun at another character; character is threatened with death; character is threatened, violence implied; picture of characters fighting with swords; secondhand report of murder victim being shot and dumped into garbage bin; characters feel their lives are in danger as they are being pursued by a vehicle; secondhand report of people being hurt in a hit and run; secondhand report of a character being stabbed in a home invasion robbery; character reports they kicked a male in the privates; secondhand report of parent's murder; characters are fired upon by another character with a gun; character is threatened at gun point; extended scene (about 1.5 pages) juveniles engage in a physical altercation with an adult, weapons used, non-life threatening injuries and blood mentioned.
Sex/Nudity: Mention of a half-naked male on book cover; child lives with parent and parent's significant other; brief mention of pornography; male character is attracted to other males, mentioned a few times (around 5) throughout the novel; mention of characters trading product and info for favors (sexual acts implied).
Mature Subject Matter:
Murder(s), kidnapping; computer hacking, illegal activities such as breaking and entering performed by juveniles, physical sickness, death of parent(s), street children/homelessness, child predator, divorce.
Alcohol / Drug Use:
Mention of juveniles smoking cigarettes (2x); character sees a picture of wine; the word "druggies" is used once.
Reviewed By MaryLou