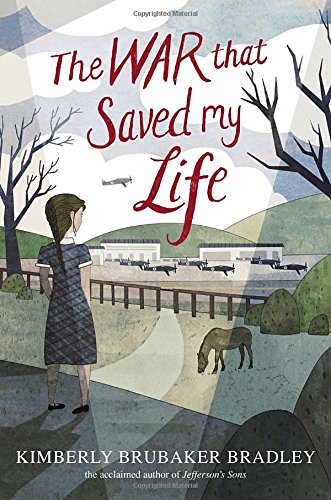 Publisher's Note:
An exceptionally moving story of triumph against all odds set during World War 2, from the acclaimed author of Jefferson's Sons and for fans of Number the Stars.

Nine-year-old Ada has never left her one-room apartment. Her mother is too humiliated by Ada's twisted foot to let her outside. So when her little brother Jamie is shipped out of London to escape the war, Ada doesn't waste a minute—she sneaks out to join him.

So begins a new adventure of Ada, and for Susan Smith, the woman who is forced to take the two kids in. As Ada teaches herself to ride a pony, learns to read, and watches for German spies, she begins to trust Susan—and Susan begins to love Ada and Jamie. But in the end, will their bond be enough to hold them together through wartime? Or will Ada and her brother fall back into the cruel hands of their mother?

This masterful work of historical fiction is equal parts adventure and a moving tale of family and identity—a classic in the making.
The War that Saved My Life
by Kimberly Brubaker Bradley
Overall Review:
"I slipped my hand into hers. A strange and unfamiliar feeling ran through me. It felt like the ocean, like sunlight, like horses. Like love. I searched my mind and found the name for it. Joy."
The War that Saved My Life is a incredible book. Written by acclaimed children's author Kimberly Brubaker Bradley, The War that Saved My Life is middle grade historical fiction with a poignant storyline, endearing characters, and stunning writing. While World War II rages outside, main character Ada struggles with her own inner battles in a refreshingly realistic, yet age-appropriate, way. Ada's plight will move readers, so much that it will be nearly impossible to put the book down. Though readers will hate to see it end, The War that Saved My Life is a sensational story that can be read over and over again.
Content Analysis:
Profanity/Language: 3 religious exclamations, 3 mild obscenities.
Violence/Gore: Children are threatened with a beating; threats of bombings during the war; secondhand reports of violence include talk of World War I, battleships sinking, characters recalling being beaten, pilots dying in battle; a character is thrown from her horse and receives a non-life threatening injury; brief scenes of violence include bombings, a plane crash and characters being slapped or beaten; a house is destroyed by a bomb with no casualties.
Sex/Nudity: None
Mature Subject Matter:
Physical and verbal abuse of children, neglect, World War II, spies, bombings, death of family members and friends, anxiety, physical disability, name calling.
Alcohol / Drug Use:
A character's mother works at a pub and mentions "getting a drink"; young characters serve wounded soldiers water in front of a pub.
Reviewed By Rachel