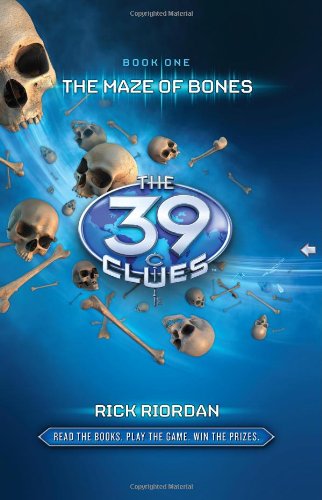 Publisher's Note:
The first book in the #1 bestselling phenomenon sends readers around the world on the hunt for the 39 Clues!

Minutes before she died Grace Cahill changed her will, leaving her decendants an impossible decision: "You have a choice - one million dollars or a clue."

Grace is the last matriarch of the Cahills, the world's most powerful family. Everyone from Napoleon to Houdini is related to the Cahills, yet the source of the family power is lost. 39 Clues hidden around the world will reveal the family's secret, but no one has been able to assemble them. Now the clues race is on, and young Amy and Dan must decide what's important: hunting clues or uncovering what REALLY happened to their parents.
The Maze of Bones
by Rick Riordan
Overall Review:
The first installment in The 39 Clues series is a gripping introduction to a fun, fast-paced mystery. Rick Riordan (The Lightning Thief) does a fantastic job of introducing the reader to the many characters in the story, and keeps the plot rolling right along with action-packed adventure.
One of the great things about this series is that each installment is written by a different YA or MG author. This means we can enjoy a satisfying mystery as each new writer brings their fresh ideas and twists to the story.
The Maze of Bones is a quick read, popular with young readers from upper elementary grades all the way up into junior high. Kids love the sister-brother team of Amy and Dan, and can't wait to continue searching for clues in subsequent books.
Hot Tip: Have the second (and third, and fourth . . .) book on hand, as the story doesn't end with this book. In fact, it's just getting started. You will want to be able to dive right into Book 2 and keep reading until you've solved all 39 clues.
Content Analysis:
Profanity/Language: None
Violence/Gore: A character is shot and sustains minor injuries with no detail; characters escape from a burning building; characters escape from a collapsed building after an explosion; two characters are knocked unconscious by an explosion; characters are shot at (not hit); a character is almost hit by a train; two characters are knocked unconscious after a large crate is dropped on them; a character slips and falls, catching herself with one hand, injuring her wrist.
Sex/Nudity: None
Mature Subject Matter:
Death of a family member, hostage situations, minors run away from home.
Alcohol / Drug Use:
None
Reviewed By Leslie