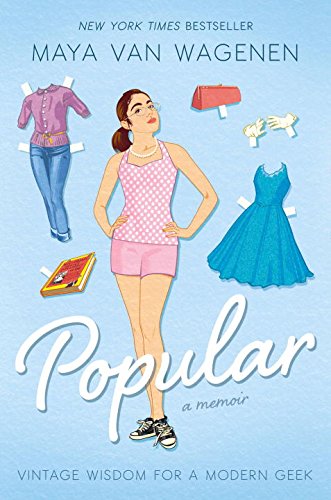 Publisher's Note:
2015 YALSA Award for Excellence in Nonfiction
New York Times Bestseller

A breakout teen author explores the true meaning of popularity and how to survive middle school in this hysterically funny, touchingly honest contemporary memoir.

"I was inspired by [Maya's] journey and made a point of saving a copy of 'Popular' for my sister, who starts middle school this fall. Maybe if I had read it when I was her age, it could have saved me from a world of hurt, or at least put that world in perspective." —Maude Apatow, New York Times Book Review

Can curlers, girdles, Vaseline, and a strand of pearls help a shy girl become popular?
Maya Van Wagenen is about to find out.

Stuck near the bottom of the social ladder at "pretty much the lowest level of people at school who aren't paid to be here," Maya has never been popular. But before starting eighth grade, she decides to begin a unique social experiment: spend the school year following a 1950s popularity guide, written by former teen model Betty Cornell.

The real-life results are hilarious, painful, and filled with unexpected surprises. Told with humor and grace, Maya's journey offers readers of all ages a thoroughly contemporary example of kindness and self-confidence, along with a better understanding of what it means to be popular.
Popular: Vintage Wisdom for a Modern Geek
by Maya Van Wagenen
Overall Review:
I was homeschooled so for the majority of my childhood and adolescence I never felt the pressure to be "popular". So, in some sense, I couldn't really relate to what Maya writes about in this book. (However, I have always been hard on myself, and I hated when I seemed different or out of place.) Maya has always felt like she stood out in all of the worst ways. She never had the cool hairdo, or the newest shoes. So she starts a project one year--a project to better herself, and to see how the people around her respond. Little does she know that this "project" will expand into something that will change her life.
For her inspiration, Maya drew from a book that was published years ago by a "style icon" at the time. So, as you can imagine, many of the things Maya decides to do to change her looks and attitude is a bit out of date. Some of the suggestions in the book she was following were laughable, and I couldn't believe that Maya followed them. I can hardly imagine that wearing a straw hat to school is going to make a girl stand out in a good way. Sometimes I almost felt like Maya wasn't trying to become popular, so much as she was trying to stand out in a shocking way. I'm pretty sure she succeeded at the latter.
This book is one that I think girls of all ages will be able to relate to in one way or another. There are several lessons that can be taken away from it; one of them being that the word popular doesn't necessarily mean good things, nor is it something you have to be. You can simply be yourself, and accept you for who you are. Liking yourself for who you are is much more important than what others think of you, as long as you are striving to be your best self.
Content Analysis:
Profanity/Language: 14 mild obscenities; 5 derogatory names; 3 anatomical terms.

Violence/Gore: A girl is in an accident and cuts herself, blood is mentioned with no detail; a war over drugs is mentioned to be happening and affecting a town; a lockdown occurs at a school in one brief, scary scene; a baby is mentioned to die from heart failure; a wild animal is mentioned to be slaughtered, some blood is mentioned; a minor shoots himself; a violent story involving guns is told.

Sex/Nudity: A girl is mentioned to be in her underthings, no sexual innuendo; a minor girl is nude in a non-sexual scene; adults kiss; teen pregnancy is mentioned to be an issue; a mother talks to her daughter about sanitary pads and tampons; a girl refers to something as "sexy and chic"; a strip club is mentioned with no detail; a class is taught about sex in several scenes with some brief talk about the logistics of sex; a boy is mentioned to "come out"; a minor couple is mentioned to make out; a nude little sister (toddler) is mentioned to dance.
Mature Subject Matter:
Death of a loved one, bullying, cancer.
Alcohol / Drug Use:
"A raging alcoholic or cocaine addict" is referred to; a drug deal is referenced; a boy talks about pot; a drug problem is mentioned at a school.
Reviewed By Lydia