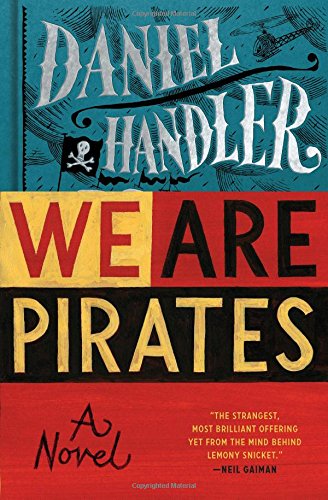 Publisher's Note:
From mega-bestselling author Daniel Handler (aka Lemony Snicket), a novel for adults that "will dazzle, disturb, and delight you" (Jess Walter).
A boat has gone missing. Goods have been stolen. There is blood in the water. It is the twenty-first century and a crew of pirates is terrorizing the San Francisco Bay.
Phil is a husband, a father, a struggling radio producer, and the owner of a large condo with a view of the water. But he'd like to be a rebel and a fortune hunter.
Gwen is his daughter. She's fourteen. She's a student, a swimmer, and a best friend. But she'd like to be an adventurer and an outlaw.
Phil teams up with his young, attractive assistant. They head for the open road, attending a conference to seal a deal.
Gwen teams up with a new, fierce friend and some restless souls. They head for the open sea, stealing a boat to hunt for treasure.
We Are Pirates is a novel about our desperate searches for happiness and freedom, about our wild journeys beyond the boundaries of our ordinary lives.
Also, it's about a teenage girl who pulls together a ragtag crew to commit mayhem in the San Francisco Bay, while her hapless father tries to get her home.
We Are Pirates
by Daniel Handler
Overall Review:
Anyone who has read books by Lemony Snicket knows his books are quirky and entertaining. Most of them are very juvenile, and yet adults might find themselves oddly drawn to the stories this mysterious man has concocted. I will let you in on a not-so-secret...Daniel Handler is Lemony Snicket, and vice versa. I have read one of Daniel's other books Why We Broke Up, and I thought it was different than his other stuff, but a fun read. Okay, are you ready for the news I am going to break to you, albeit reluctantly? I did not like We Are Pirates. I did not like it at all.
I can't really explain why I disliked this book so much. I felt like the tone was similar to The Casual Vacancy by J.K. Rowling, and the situation was also like when I read that book. I was looking forward to a fun book, that was something like Harry Potter, and instead I got a whole bunch of pages of disappointment. We Are Pirates was not poorly written by any means. The characters were well-developed; the plot thought out. So what was it missing? I really don't know! I started out with high hopes and an optimistic attitude. When I got about halfway through, I started to realize that this story was not going to get better, but I might as well finish it.
So, should you read this book? Maybe--eEspecially if you are an adult that has not read anything by Lemony Snicket. Maybe it was just too much for my poor little brain to take, the idea that this book might be so far away from A Series of Unfortunate Events. Perhaps I was just in the wrong mood. Whatever it was, I won't be recommending this book to anyone, since I was far from entertained.
Content Analysis:
Profanity/Language: 6 religious exclamations; 9 mild obscenities; 5 religious profanities; 5 derogatory names; 7 scatological words; 7 anatomical words; 29 F-Word derivatives.
Violence/Gore: Shoplifting occurs more than once; a character is mentioned to be burned by a spilled pot of hot liquid; a girl says she tried to kill herself; a woman is mentioned to commit suicide; a minor girl threatens her minor friend; a minor girl goes missing; a girl shoves an adult; a minor stabs an adult and blood is mentioned, the character perishes; a character is mentioned to be bleeding from an injury; two innocent people are said to have been murdered after a brief scuffle; a boat is crashed and destroyed in a scene; several characters almost drown; an unsupervised baby is mentioned to swallow some dangerous pills; a group of three minors goes missing.
Sex/Nudity: A pornographic magazine is mentioned to be shoplifted; masturbation is mentioned; nude girls are seen posing in pictures with some brief detail; sex is referred to; a brief mildly sexual scene between two adults occurs; minors kiss once; sex is promised to a man by a minor female; a man is implied to have sex with a woman who is not his wife; a man is mentioned to take a shower (obviously nude); a couple is mentioned to make love; a nude man is observed briefly in one scene with no explicit detail; a girl is given a picture of herself where she is seen nude.
Mature Subject Matter:
Crime, shoplifting, death, violence.
Alcohol / Drug Use:
Adults drink beer; cocaine use is mentioned; drug use is implied in a brief scene; a character is mentioned to be dying from illegal drug use; a woman is mentioned to drink vodka; a minor pretends to smoke.
Reviewed By Lydia