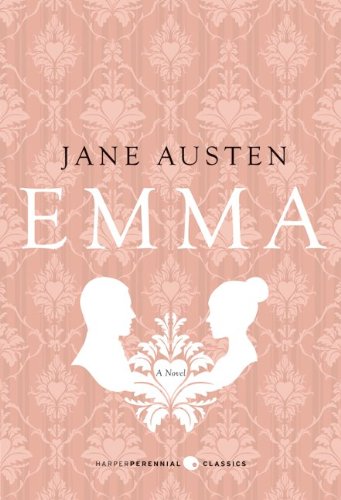 Publisher's Note:
Emma Woodhouse, handsome, clever, and rich. Also, rather spoiled, and overly-confident in her matchmaking abilities with the residents of her village in Highbury. Though convinced that she herself will never marry, Emma sets out to find an eligible match for her new friend, Harriet Smith. But matters of the heart are never simple. Emma's obsession with finding Harriet the perfect partner leads her into a complex tangle of intrigues, misunderstandings, and conflicts of interest, after several new admirers come to the fore...admirers whose sights are set upon the wrong woman. Jane Austen's charming novel of love, friendship, and social grace is a timeless classic - as poignant and riveting today as it has been for generations of readers since its initial publication.
Emma
by Jane Austen
Overall Review:
After finishing Emma, Jane Austen said that she had created in Emma a protagonist that "no one but myself will much like." True, Emma is often selfish, short-sighted, and sometimes even arrogant—but millions of people have found a place for her in their hearts, nonetheless. Emma's entertaining attempts to meddle and matchmake for all the citizens of Highbury, and the subsequent tangles in which she finds herself, help us all to empathize with Austen's heroine and all her misguided ideas. When she ultimately arrives at her "happy ending" despite her flaws and mistakes, it is a satisfying conclusion indeed! Although not as famous as Austen's Pride and Prejudice, Emma is a terrific example of everything that made Austen great. Emma is perfect for anyone looking for witty conversation, deftly drawn characters, and the kind of romance that prompts a happy sigh after you've closed the book.
Content Analysis:
There is very little "content" in Emma; although some of the characters make poor decisions in their relationships, they are all morally upstanding people. There is some very mild violence where two of the characters are accosted by a band of gypsies and a robbery is attempted, but averted when a third character comes to the rescue. This book would be great for any age, but because of the "classic" language and subject matter that would probably be dull for younger readers.
Mature Subject Matter:
***
Alcohol / Drug Use:
***
Reviewed By CindyB