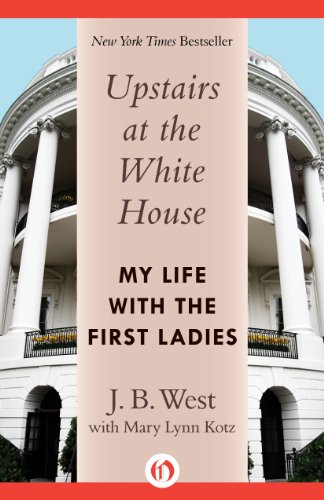 Publisher's Note:
A New York Times bestseller: A fascinating behind-the-scenes look at life on Pennsylvania Avenue with America's first families, by the man who spent nearly three decades in their midst.
J. B. West, chief usher of the White House, directed the operations and maintenance of 1600 Pennsylvania Avenue?and coordinated its daily life?at the request of the president and his family. He directed state functions; planned parties, weddings, funerals, gardens, playgrounds, and extensive renovations; and with a large staff, supervised every activity in the presidential home. For 28 years, first as assistant to the chief usher, then as chief usher, he witnessed national crises and triumphs, and interacted daily with six consecutive presidents and first ladies, their parents, children and grandchildren, and houseguests?including friends, relatives, and heads of state.
In Upstairs at the White House, West offers an absorbing and novel glimpse at America's first families, from the Roosevelts to the Kennedys and the Nixons. Alive with anecdotes ranging from the quotidian (Lyndon B. Johnson's showerheads) to the tragic (the aftermath of John F. Kennedy's assassination), West's audiobook is an enlightening and rich account of the American history that took place just behind the Palladian doors of the North Portico.
Upstairs at the White House: My Life with the First Ladies
by J. B. West
Overall Review:
Chief Usher J. B. West shares his experiences running the official residence of the President in Upstairs at the White House: My Life with the First Ladies. West's tone is pleasant and conversational and the book is an easy and delightful read. West describes each of the First Ladies, from Eleanor Roosevelt to Pat Nixon, in great detail and only in courteous terms, with little hint of gossip or scandal. Instead, West focuses on the important visitors, logistics, and funny anecdotes that occurred during his service. The reconstruction under President Truman and the restoration under Jackie Kennedy are also featured heavily. Authentic black and white pictures are included, which focus mostly on the White House interior. Upstairs at the White House is a fascinating read for those wanting to learn about the First Ladies and/or the history and tradition of the White House.
Content Analysis:
Profanity/Language: 2 religious exclamations, 8 mild obscenities, 1 religious profanity.
Violence/Gore: A few implied occurrences of violence involving the Cold War and Kennedy assassination; secondhand report of violence involving the Kennedy assassination; a non-detailed scene of violent death of the Secret Service during an assassination attempt on the President.
Sex/Nudity: A few non-sexual depictions of nudity including characters changing clothes and the President swimming in the nude; a few sexual references and implied sexual activity between Presidents and other women.
Mature Subject Matter:
Assassination and assassination attempts, politics, death of family members, war.
Alcohol / Drug Use:
Drinks are frequently served at White House functions; characters smoke and drink.
Reviewed By Rachel