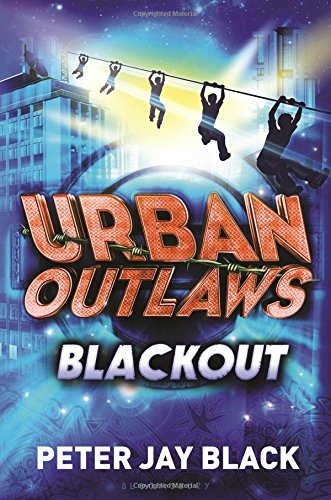 Publisher's Note:
The world's most lethal computer virus has been unleashed into cyberspace, and now the Urban Outlaws-five tough kids dedicated to justice-must destroy it. Leader Jack knows that they have to shut it down before it throws the world into chaos. But how can he find a virus that might be anywhere, and everywhere?
Then the team meets Hector, an insanely talented hacker who even impresses Jack. The Urban Outlaws need his help, but can they trust him? It's a risk that could mean winning big, or losing everything. . . .
This sensational sequel has all the makings of a blockbuster movie: non-stop action, cutting edge technology, and a high-stakes plot. But at the heart of this thrill ride is the story of five gutsy kids who will do anything to save the world-and protect each other.
This book was sent to Compass Book Ratings for review by Bloomsbury Children's Books
Urban Outlaws: Blackout
by Peter Jay Black
Overall Review:
The exciting action packed adventure series, Urban Outlaws continues in Blackout, right where the first book left off. Author Peter Jay Black brings back the familiar cast of characters, adding only one new character to the mix in this book, to continue tracking down the super-computer virus. There is a fun contrast of personalities and skills among these young teen, modern Robin Hoods as they try to track and destroy the virus. Again there are lessons learned as they need to work to each other's strengths and abilities--as well as trust in one another to accomplish their goal. Jack is still the leader of this little band and he's at the forefront of this novel. His struggles to not only be the leader at such a young age, but to also know that the other four depend on him for survival, seems to be stretching him to the limit in this novel. This allows him to grow and mature, which is what happens throughout the story.
While Blackout is still action-packed and exciting, there's a lot less MacGyver-like ingenuity happening. Most of the quick thinking and narrow escapes happen with computer programs and on the computer this time around. For the computer illiterate, this might not be the most exciting book, but it's exciting to see if they are going to accomplish their goal and trap the virus, even you don't quite understand how they are doing it. There is also a lot less focus on the Robin Hood quality of the group that appeared in the first novel, but they still find time to give back and help others. All in all, Blackout, is a great follow up to the first in the series and paves the way for a third, as there is still work for the Urban Outlaws to do and the enemy hasn't really been thwarted.
This is the second in the Urban Outlaw Series. The first, titled Urban Outlaws was reviewed here.
Review of an Advance Review Copy
Content Analysis:
Profanity/Language: 8 religious exclamations.
Violence/Gore: Person gassed so that they pass out and fall down; person wishes another person would be electrocuted; person's hands tied together and then they are pulled through a window; character pretends that he is going to jump from a tall building to get people's attention; character threatens to hang another out a window; mention of how the bad guys could beat information out of someone if they wanted to; mention of how someone has repeatedly tried to kill group of kids--no details; person breaks down door; person grabs a kid by his throat and threatens to break his neck (scene lasts 3 pages); character stuns another person with stun gloves, which are similar to a stun gun and sends electric volts through a person; person attacked by a clown in a virtual world; person tears alarm box off the wall and breaks it in an attempt to disarm the alarm; person jumps on to hood of moving car and is thrown from it after being kicked in the face; group of characters is locked in a room that is overheating; guards point guns at a group of kids; character uses stun gun on someone to immobilize them; character jumps on another and then suspects that he has broken the other person's collar bone; person grabs kid by shirt and pushes him to the ground; character knocks 2 people over and uses a stun gun on third; person tied to a chair and has injuries that would suggest having been beaten; person threatens to throw a group of kids off 800 foot wall; person threatens to kill group of kids; character promises he will kill another if they don't tell the truth; person indicates he will cut someone's throat with a hand gesture; person with a gun threatens other people in room and then shoots at police as they enter the scene.
Sex/Nudity: None
Mature Subject Matter:
Death of parents.
Alcohol / Drug Use:
Adult seen smoking a cigarette.
Reviewed By Sally