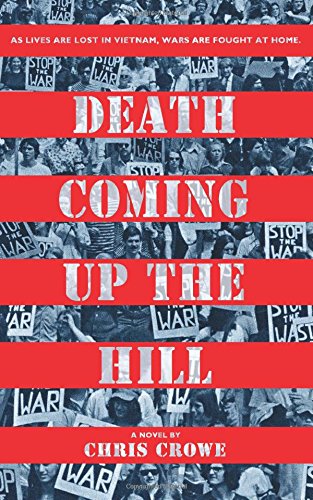 Publisher's Note:
It's 1968, and war is not foreign to seventeen-year-old Ashe. His dogmatic, racist father married his passionate peace-activist mother when she became pregnant with him, and ever since, the couple, like the situation in Vietnam, has been engaged in a "senseless war that could have been prevented."
When his high school history teacher dares to teach the political realities of the war, Ashe grows to better understand the situation in Vietnam, his family, and the wider world around him. But when a new crisis hits his parents' marriage, Ashe finds himself trapped, with no options before him but to enter the fray.
Death Coming Up the Hill
by Chris Crowe
Overall Review:
Death Coming Up the Hill is the work of a brilliant writer, but it is not at all pretentious. Chris Crowe's lovely novel in verse gives voice in a real, stark way to the worries of a young man facing war--both at home and abroad.
With historical accuracy and insight into the human experience during wartime, Crowe gently but firmly leads his reader through Ashe's story, offering many of the harsh details of the Civil Rights Movement and the Vietnam War without unnecessary, disturbing detail. The reader can feel the pathos of the story without coming away scarred or damaged.
Readers who are skeptical about novels in verse should not be deterred. This is a quick, easy read, and the verse adds to the story--in fact, it couldn't be told any other way. Death Coming Up the Hill is accessible as it is profound.
Content Analysis:
Profanity/Language: 1 religious exclamation; 7 mild obscenities; 3 derogatory names.
Violence/Gore: A newspaper photograph depicts a person who has been shot in the head, described in some detail (no blood); rioting breaks out with no description of injuries sustained; news reports of people killed in police action; the assassinations of two prominent individuals are reported; scenes of war are described in some detail.
Sex/Nudity: Characters hold hands; two characters kiss briefly (3 times); a character is known to have had an extramarital affair.
Mature Subject Matter:
Family problems, divorce, war, political demonstrations, extramarital affair, pregnancy out-of-wedlock.
Alcohol / Drug Use:
Marijuana is mentioned; an adult character smokes cigarettes.
Reviewed By Leslie