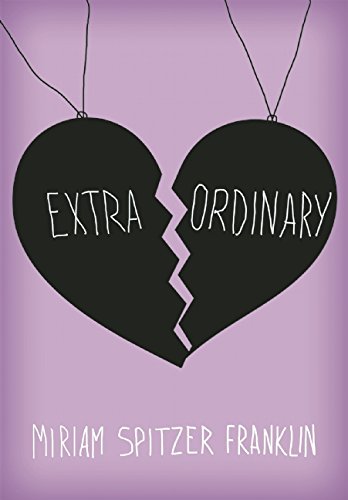 Publisher's Note:
Last spring, Pansy chickened out on going to spring break camp, even though she'd promised her best friend, Anna, she'd go. It was just like when they went to get their hair cut for Locks of Love; only one of them walked out with a new hairstyle, and it wasn't Pansy. But Pansy never got the chance to make it up to Anna. While at camp, Anna contracted meningitis and a dangerously high fever, and she hasn't been the same since. Now all Pansy wants is her best friend back—not the silent girl in the wheelchair who has to go to a special school and who can't do all the things Pansy used to chicken out of doing. So when Pansy discovers that Anna is getting a surgery that might cure her, Pansy realizes this is her chance—she'll become the friend she always should have been. She'll become the best friend Anna's ever had—even if it means taking risks, trying new things (like those scary roller skates), and running herself ragged in the process.

Pansy's chasing extraordinary, hoping she reaches it in time for her friend's triumphant return. But what lies at the end of Pansy's journey might not be exactly what she had expected—or wanted.

Extraordinary is a heartfelt, occasionally funny, coming-of-age middle grade novel by debut author Miriam Spitzer Franklin. It's sure to appeal to fans of Cynthia Lord's Rules and will inspire young friends to cherish the times they spend together. Every day should be lived like it's extraordinary.
This book was sent to Compass Book Ratings for review by Sky Pony Press
Extraordinary
by Miriam Spitzer Franklin
Overall Review:
Extraordinary is a debut middle grade novel by Miriam Spitzer Franklin. The story revolves around Pansy, whose best friend Anna was an extraordinary person, until serious illness caused her massive brain damage. When Pansy finds out that Anna is having surgery she secretly hopes for a miracle that will correct the brain damage and return her best friend to the way she was before.
Pansy is a truly charming character--loyal and earnest as she strives to be the extraordinary friend she should have been before Anna became ill. Constantly pushing herself beyond her comfort zone, sometimes with hilarious consequences, in the innocent hope that Anna will make a full recovery, Pansy continues on despite everyone's warnings that there is no cure. During her personal journey Pansy is supported a by wide range of characters who build her up, tear her down, and sometimes manage to do both at the same time.
Ms. Franklin weaves a touching and occasionally heartbreaking story which moves forward at a good, brisk pace without losing any sincerity of emotion . She keeps her main character firmly rooted in her motivations while still growing on a personal level. The innocent intent coupled with strong, realistic characters lends Extraordinary an authenticity that many novels dealing with this subject matter strive for, but often fall short of achieving. Extraordinary is a tender coming of age story that exemplifies the meaning of friendship, and gently reminds the reader that we are capable of more than we think.
Content Analysis:
Profanity/Language: None
Note: while there is no language in the book there are several instances when a bully refers to a disabled girl as a "retard"
Violence/Gore: Adult chokes on food in surprise; reference to an ice skater falling; child kicks another child; many reference to a child becoming permanently disabled; many references to a child falling or sustaining very minor injury on rollerblades or ice skates; child is dragged by dogs while on skates (comical); child has several seizures; a few instances when a child shoves another child; child sprains ankle; child has very dangerous surgery (death is mentioned as possible); child hurts foot.
Sex/Nudity: None
Mature Subject Matter:
Bullying, illness/injury, disability, change, friendship, loss, challenge, moving on.
Alcohol / Drug Use:
Disabled child takes drugs for medical purposes (referenced only).
Reviewed By Amberle