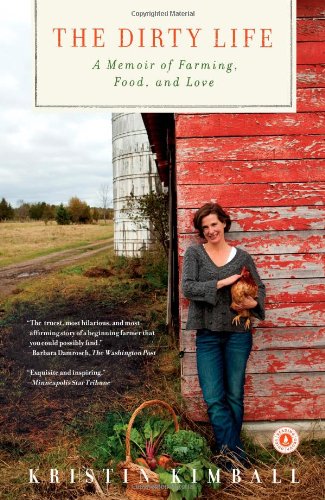 Publisher's Note:
This book is the story of the two love affairs that interrupted the trajectory of my life: one with farming—that dirty, concupiscent art—and the other with a complicated and exasperating farmer."

Single, thirtysomething, working as a writer in New York City, Kristin Kimball was living life as an adventure. But she was beginning to feel a sense of longing for a family and for home. When she interviewed a dynamic young farmer, her world changed. Kristin knew nothing about growing vegetables, let alone raising pigs and cattle and driving horses. But on an impulse, smitten, if not yet in love, she shed her city self and moved to five hundred acres near Lake Champlain to start a new farm with him. The Dirty Life is the captivating chronicle of their first year on Essex Farm, from the cold North Country winter through the following harvest season—complete with their wedding in the loft of the barn.

Kimball and her husband had a plan: to grow everything needed to feed a community. It was an ambitious idea, a bit romantic, and it worked. Every Friday evening, all year round, a hundred people travel to Essex Farm to pick up their weekly share of the "whole diet"—beef, pork, chicken, milk, eggs, maple syrup, grains, flours, dried beans, herbs, fruits, and forty different vegetables—produced by the farm. The work is done by draft horses instead of tractors, and the fertility comes from compost. Kimball's vivid descriptions of landscape, food, cooking—and marriage—are irresistible.

"As much as you transform the land by farming," she writes, "farming transforms you." In her old life, Kimball would stay out until four a.m., wear heels, and carry a handbag. Now she wakes up at four, wears Carhartts, and carries a pocket knife. At Essex Farm, she discovers the wrenching pleasures of physical work, learns that good food is at the center of a good life, falls deeply in love, and finally finds the engagement and commitment she craved in the form of a man, a small town, and a beautiful piece of land.
The Dirty Life: A Memoir of Farming, Food, and Love
by Kristin Kimball
Overall Review:
Humans crave nature to some extent. Whether you are like Kristin Kimball and hail from a busting city, or you live in a small town in the middle of nowhere, you probably feel this pull to dig in the dirt every now and then. Or you at least appreciate flowers and succulents, eat eggs for breakfast, and savor the fresh burst of flavor a tomato offers in the summer time.
I really, really liked this book. There is something about reading a book about hard work and farm-life that makes me appreciate how good I have it. While I think that the life that Kristin Kimball and her husband lead sounds fulfilling and like a lifestyle I could handle for about a week (or maybe a day?), it also sounds backbreaking and stressful. The amazing thing about Kristen is throughout this book she didn't ever really complain. Though there were many times where she could have lamented her choices, instead of griping about how hard things were, she simply plowed through them and made the best of it.
From raising piglets to planting potato fields, at the end of a year, Kristin has done it all. I am sure this city girl never thought she would have to chop off a chicken's head, or milk a cow every day, but even though she had no background in farming, she became an expert in all things "farmish" pretty quickly. If you are looking for a book that will make you appreciate the life you live, a life full of grocery stores and shopping malls, then pick up this one!
Content Analysis:
Profanity/Language: 3 mild obscenities; 1 anatomical term; 1 F-Word derivative.
Violence/Gore: A man shoots a pig with the intention to eat it; an observation of man beating another man with a bat and being violent is described in brief detail; skinning sheep is described in some brief detail; chickens are slaughtered and the process is described in some detail; a woman is mentioned to have died from old age; some dogs attack a cow and the dogs are shot and killed; a farm animal is injured by dogs and the cuts and bite marks are briefly written of; rats are killed by various methods (drowning, trapping, catting); a batch of kittens is found dead, their little bodies are briefly described by the author; a cow is shot and slaughtered, some blood is mentioned and the process is described.
Sex/Nudity: A married couple is mentioned to sleep together; kissing girls is referred to; a man viewing porn is referred to; a woman recalls sleeping with her husband, and how he touched her breast; a woman is referred to as a "whore and a prostitute"; a man is mentioned to undress before bed; a married adult couple kisses.
Mature Subject Matter:
Death, killing animals, survival.
Alcohol / Drug Use:
An adult drinks port; adults drink homemade beer; a man is mentioned to have never smoked or tried drugs; a home is mentioned to smell like pot; a woman is mentioned to smoke cigarettes.
Reviewed By Lydia