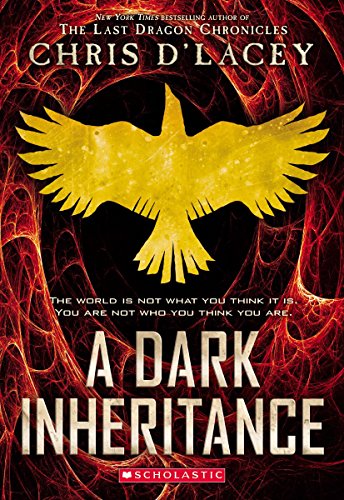 Publisher's Note:
From NEW YORK TIMES bestselling author Chris d'Lacey comes a brand-new paranormal action-adventure series!

When Michael Malone unexpectedly saves a dog's life, he discovers something extraordinary: He can alter reality. He is quickly recruited by UNICORNE, a secret organization dedicated to investigating strange and paranormal phenomena. He agrees to join under one condition: UNICORNE must help him find his father, who vanished three years ago.

Michael's first task is to solve the mystery of the dog he saved -- a mystery that leads him to an eccentric and sickly classmate and a young girl who was killed in a devastating accident. But the deeper Michael ventures into the strange world of UNICORNE, the quicker danger seems to find him. Is Michael strong enough to harness his newfound ability, complete the tasks set before him, and find his father?
This book was sent to Compass Book Ratings for review by Scholastic
UFiles #1: A Dark Inheritance
by Chris d'Lacey
Overall Review:
In this first novel, A Dark Inheritance, of the Unicorn Files series by veteran fantasy author Chris D'Lacey, we meet Michael, who by one random act of kindness gets thrown into this paranormal reality that he can influence. Michael appears to be your average middle school student, and he was just trying to be helpful by keeping a dog from jumping off a cliff, but he is far from average. Now along with all of the middle school awkwardness, he needs to learn to cope with the facts that he can alter reality and that a secret organization wants to recruit him. All of this means that he is in for the journey of a lifetime, which will hopefully lead him to finding his missing father.
In A Dark Inheritance, the reader follows Michael on this journey that takes him on many twists and turns, some with not so great results. He meets some interesting people and some people that just want to use his powers, and he needs to figure out who is on his side. The paranormal aspect of the book made it an interesting read in that it was different, but at times a little too convenient and contrived. Also, the voices of the characters came off as a lot older than middle school-aged kids and that made it hard to believe in some ways. As the first in the series, this novel left a lot of loose ends and unanswered questions. Hopefully, they'll get answered in the books to come.
Content Analysis:
Profanity/Language: 5 religious exclamations.
Violence/Gore: Reference made to cliffs being used by people wanting to commit suicide; speculation of a character having committed suicide by jumping off cliffs; character thrown off motorcycle and receives minor injuries; character shot and injured; character shot at and chased down; character taken against his will to another location; character crashes scooter and receives minor injuries; character grabs another and causes them to fall by letting go quickly; account of someone dying in a bicycle accident; 2nd hand account of someone whipping an animal; brief description of a wound to someone's head; character cuts own finger in order to be sent to the nurse; character is intentionally hit by car while riding bike and is knocked unconscious; account of character who received a heart as a donated organ; account of experiencing paranormal events; character injected with a drug that causes him to have a near death experience; character immersed in fluid yet can still breath but still causing him to panic; character experiences a paranormal event that causes his hair to burn, body to spasm and eye to explode; account of an octopus-like creature repairing the injuries to a man; octopus-like creature does something to character that causes him to pass out; character given a tattoo and microchip without consent; character starts having heart problems because of a paranormal experience (3 page account); account of how a person caused the death of another--no details; animal attacks a person; ghost attempts implies it wants to kill someone; person's hair described as being mangled with blood; person grabs another and forces him to climb over a cliff to retrieve something and uses a knife as a threat; characters struggle in fight at edge of cliff with one threatening to kill the other and one falls over edge of cliff (3 page account); character tries to hit another; character says how he could kill someone whenever he wants.
Sex/Nudity: 2nd hand account of 2 adults kissing; girl kisses boy on nose; boy and girl hold hands (3 accounts).
Mature Subject Matter:
Suicide, paranormal events, disappearance of parent, murder, organ donation.
Alcohol / Drug Use:
Cigarette found smoking in ashtray; character injected with a drug against his will.
Reviewed By Sally