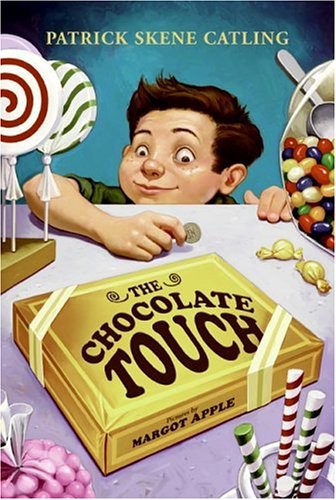 Publisher's Note:
This funny moral tale about a greedy boy's comeuppance has been beloved by children since its first appearance in 1952. Inspired by the legend of the avaricious king whose touch turned all to gold, Mr. Carling conceived a modern variation that delights as it instructs. In it a boy's lust for chocolate becomes the fatal flaw. This new edition, completely reillustrated by a talented young artist, will acquaint yet another generation with John Midas's classic predicament.

The story tells of the two days after John acquired the chocolate touch-the magic that turned everything his lips touched into chocolate. At first, John was elated with his discovery. Now at last he could have all the chocolate he wanted. Chocolate toothpaste was delicious; chocolate bacon and chocolate eggs were even better. But soon he began to get awfully thirsty, and before the day was over John suspected that his sweet dream-come-true might have its bitter side.
The Chocolate Touch
by Patrick Skene Catling
Overall Review:
What would you think if all of a sudden, everything (and I do mean everything) that went into your mouth or touched your lips turned to chocolate? Eggs, bacon, water, milk, juice, your leather gloves, spoons, forks, trumpets…Everything! You'd probably feel like little John: At first he's beyond thrilled! Hooray! No more nasty food!! But after awhile, sadly, you'd realize you just can't live on chocolate. But how did it happen and how can he get rid of it? Many silly things happen and it's a fun ride seeing what John does as one terrible thing after another happens to him. Perfect for reading aloud (as long as you know to expect a lot of giggling!) or for any kid who just can't get enough chocolate! (Ok, so I think that covers all of us!)
Content Analysis:
I read this aloud to my kids amidst a great deal of giggling and a desire to eat chocolate! The theme of 'too much of a good thing' was a great lesson and we could talk about why having too much of what we loved isn't always a good thing! A character is turned to chocolate, but it is made right in the end.
Mature Subject Matter:
***
Alcohol / Drug Use:
***
Reviewed By Emily