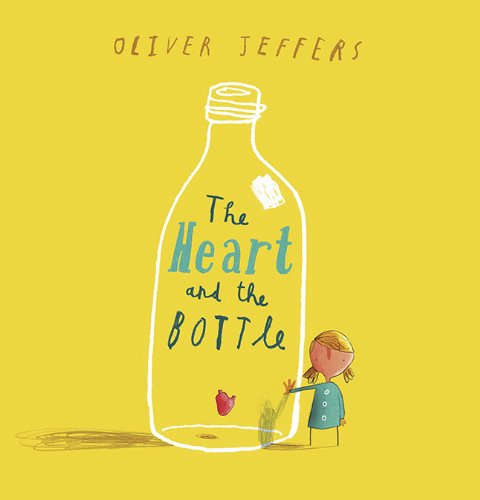 Publisher's Note:
There is a wonder and magic to childhood. We don't realize it at the time, of course . . . yet the adults in our lives do. They encourage us to see things in the stars, to find joy in colors and laughter as we play.
But what happens when that special someone who encourages such wonder and magic is no longer around? We can hide, we can place our heart in a bottle and grow up . . . or we can find another special someone who understands the magic. And we can encourage them to see things in the stars, find joy among colors and laughter as they play.
Oliver Jeffers delivers a remarkable book, a tale of poignancy and resonance reminiscent of The Giving Tree that will speak to the hearts of children and parents alike.
The Heart and the Bottle
by Oliver Jeffers
Overall Review:
I love, love, love Oliver Jeffers' work! I haven't read a book by him that hasn't made me think deeply about the world around me. This being said, young children might find his books boring or confusing, but an adult reading to them might interpret the story in a very different way. This is just the case with The Heart and the Bottle.
There is an interesting scene in this book that really threw me for a loop. A young child is exploring and comes upon an empty chair. The child realizes something about this chair, but the reader is never told what exactly, or what feelings the child is having. Something about this part of the book felt sad and somewhat sinister to me. I could tell there was some kind of a story behind it, but that Mr. Jeffers was leaving it up to the reader to decide how to interpret the message he laid out.
The most intriguing thing about this book is that any child that picks up this book will probably be very confused by this part of the story. And how will a parent or caregiver tell them what the story means, if they themselves don't really know what is going on in the picture? I'll leave that up to you to figure out, but I know that even if you don't like the way this story goes, your heart will be content with the beautiful way Mr. Jeffers illustrates his book.
Content Analysis:
Profanity/Language: None
Violence/Gore: A body organ is stuffed into a bottle, which may scare some young children.
Sex/Nudity: None
Mature Subject Matter:
None
Alcohol / Drug Use:
None
Reviewed By Lydia