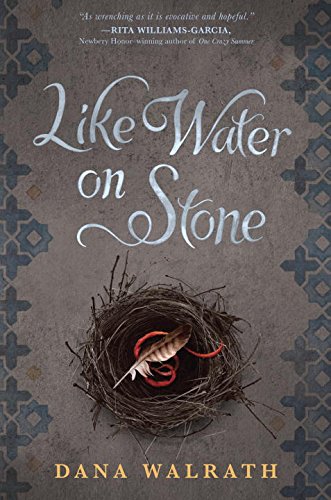 Publisher's Note:
"Evocative and hopeful," says Newbery Honor-Winner Rita Williams-Garcia of this intense survival story set during the Armenian genocide of 1915.

It is 1914, and the Ottoman Empire is crumbling into violence.
Beyond Anatolia, in the Armenian Highlands, Shahen Donabedian dreams of going to New York. Sosi, his twin sister, never wants to leave her home, especially now that she is in love. At first, only Papa, who counts Turks and Kurds among his closest friends, stands in Shahen's way. But when the Ottoman pashas set in motion their plans to eliminate all Armenians, neither twin has a choice.
After a horrifying attack leaves them orphaned, they flee into the mountains, carrying their little sister, Mariam. But the children are not alone. An eagle watches over them as they run at night and hide each day, making their way across mountain ridges and rivers red with blood.

A YALSA Best Fiction Nomination
A Notable Books for a Global Society Award Winner
A CBC Notable Social Studies Trade Book of the Year
A Bank Street College of Education Best Book of the Year with Outstanding Merit
Like Water on Stone
by Dana Walrath
Overall Review:
Like Water on Stone by Dana Walrath is historical fiction told in verse. Set in 1915, it is a fictionalized account of the Armenian genocide. Verse, done correctly, becomes invisible to the reader. The verse in this book never quite achieved that status. This was due mainly to the fact that the author was working the reader quite hard by having many characters, alternating character viewpoints, and using abundant Arabic, Turkish, and Armenian vocabulary. That said, the work put in by the reader is well-worth the investment. This is a heart-breaking, but quite important book. The Armenian Genocide has largely been swept under the rug by governments and history and the voice of its victims deserve to be heard and acknowledged. In this the centennial year of the genocide, it is an ideal time for this book. Well researched and documented, this is a tough read--on many levels--but a highly recommended one.
Content Analysis:
Profanity/Language: None
Violence/Gore: An eagle's mate is shot for sport and plucked while the bird looks on; eagle hunts for food on different occasions, brief descriptions; eaglets are missing from nest and death is inferred; eagle observes movements of soldiers and acts of war upon different occasions; soldiers shoot young men they have bound and then cut off their heads, leaving bodies (brief); reports of war; children hear the sounds of soldiers and the screams of their parents in brief, distressing scene; characters observes burning villages/houses and it is inferred that people are within; many bodies of the dead are observed and their heads have been cut off, this happens upon a couple of different occasions; characters eat animals raw with mention of blood; brief but descriptive scene of mutilated bodies as they are being buried; there is physical evidence that a woman was raped before she was killed (brief ~ 1 sentence); character falls and sustains minor injury; character attempts to rape a young girl, but is stopped (brief scene); character is hit with a blunt object rendering unconscious and causing blood to drip onto other characters (brief); siblings briefly discuss how their parents were killed.
Sex/Nudity: Mention that a girl is no longer having her period (due to physical hardship); there is physical evidence that a woman was raped before she was killed (brief ~ 1 sentence); reference to naked bodies of dead girls, that they were raped could be inferred; character attempts to rape a young girl, but is stopped (brief scene).
Mature Subject Matter:
War, atrocities of war (such as rape, mutilation of corpses), death, death of family members, genocide, discrimination, ethnic conflict.
Alcohol / Drug Use:
None
Reviewed By Cindy