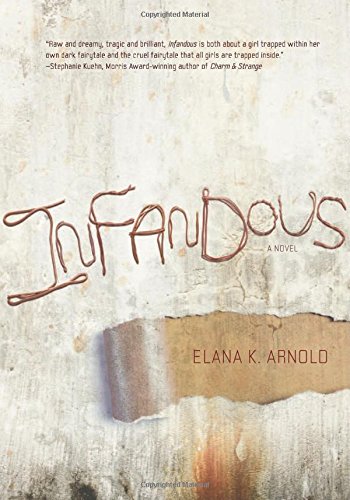 Publisher's Note:
Sephora Golding lives in the shadow of her unbelievably beautiful mother. Even though they scrape by in the seedier part of Venice Beach, she's always felt lucky. As a child, she imagined she was a minor but beloved character in her mother's fairy tale. But now, at sixteen, the fairy tale is less Disney and more Grimm. And she wants the story to be her own. Then she meets Felix, and the fairy tale takes a turn she never imagined. Sometimes, a story is just a way to hide the unspeakable in plain sight.
This book was sent to Compass Book Ratings for review by Lerner Publishing Group
Infandous
by Elana K. Arnold
Overall Review:
Infandous by Elana Arnold is a novel written in alternating voices. One voice is of the main character, Sephora. The second voice is actually a series of fairy tales, most of which are very Grimm-like. According to the cover, "Sometimes, a story is just a way to hide the unspeakable in plain sight." The unspeakable is definitely in this story and is not even on your radar as you are reading. The author delivers the blow to the reader out of nowhere. As the reader discovers what Sephora has known most of the novel, things fall into place and make a lot more sense.
That said, the book is being targeted to young adults grade ten and up. I feel that there are elements in this book that tenth grade students are not ready for without having an adult discussion after reading it. This book should probably be more in the adult realm rather than young adult. The novel is well-written and has a satisfying ending. The author knocked me off my feet with the startling discovery. See my content reviews below for explanations of the adult content.
Content Analysis:
Profanity/Language: 2 religious exclamations; 12 mild obscenities; 9 derogatory names: 58 scatological words; 13 anatomical terms; 28 F-Word derivatives.
Violence/Gore: Fairytale (FT) character is thought to have eaten his own children; FT character is thrown into a fire; FT character cuts another character's mouth apart so that she cannot talk; FT character throws the head of another character's only son into the kings lap after explaining that he just ate him in his dinner; FT father cuts his daughter's hands off after raping her; FT character kills herself.
Sex/Nudity: FT character rapes a sleeping beauty; characters discuss, or think about, sex as flower petals spreading on multiple occasions; character touches a female minor-aged character's breast; FT character describes sex with his wife in detail to listening soldiers; FT soldiers wife is found in bed with the maidservant; FT character rapes another man's wife by knifepoint with details; minor-age character recalls her first time to have sex; character discusses her period and deflowering; minor-aged character describes size of minor-aged male character's body part; minor-age character remembers having sex with an adult with details; character thinks about her mom's sex life as she is about to 'date' a friend of hers; minor-aged male has sex with adult female (no details); female character kisses another female character with vivid details and says they have kissed maybe six times before; a porn DVD is played with details about what is on screen; character thinks about her mom having sex with her friend; characters kiss during a game of quarters; character hears her mom having sex with her friend; fairy tale character tries to seduces his wife's younger sister and when she refuses, he rapes her; minor-aged character recalls with details a previous sexual encounter with an older man; adult character is excited to spend the night with minor-aged character and have sexual encounters; minor-aged character and adult female are caught in the act and body parts are described as they are naked; character imagines what was happening when her mom was caught in the act with details; character describes three statues with sexual details; FT character takes his daughter to his bed and rapes her.
Mature Subject Matter:
Babies breast feed with a few details, porn referenced, rape, adult and minor sexual relations, father/daughter consensual sexual relations, father/daughter rape, homosexuality.
Alcohol / Drug Use:
Teens smoke cigarettes; teenage characters manage to get free margaritas sometimes; teenager drinks a beer; characters drink wine multiple times both of age and minor-age; minor-age characters attend a party where there is beer and vodka and they drink; minor-age characters drink and play drinking games and end up drunk; minor-age character drinks wine alone.
Reviewed By Nicole