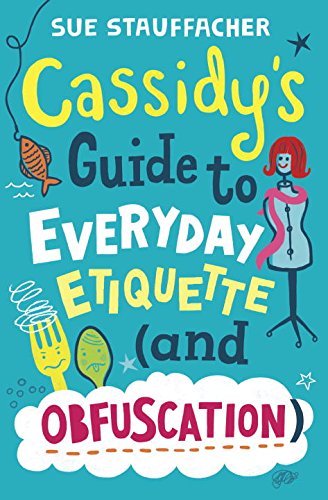 Publisher's Note:
Eleven-year-old Cassidy has just inherited a gift from her late great-grandmother. Unfortunately, that "gift" turns out to be a summer trapped in etiquette school. What good are manners, anyway, for a girl who dreams of living life on the road as a hobo—er, "knight of the road"?

As if trying to remember to keep her elbows off the table isn't bad enough, Cassidy's best friend, Jack, suddenly seems more interested in doing chores for the new teenage girl who's moved in next door than in fishing with Cassidy down by the river. Not even her classic epic pranks seem to be saving Cassidy from having her worst summer ever. It's time to face facts: growing up stinks.

Veteran middle-grade author Sue Stauffacher returns with a cranky, pranky, laugh-out-loud tomboy heroine who might just learn the hard way that manners do matter, and that people can change.
This book was sent to Compass Book Ratings for review by Random House Children's Books
Cassidy's Guide to Everyday Etiquette (and Obfuscation)
by Sue Stauffacher
Overall Review:
Cassidy's Guide to Everyday Etiquette (and Obsfuction) --the title practically begs one to read the book. The publisher's note indicates that Cassidy, tomboy extraordinaire, is doomed to etiquette school for the summer. However, the reader needs to adjust expectations a bit, because this isn't a "boarding school" book; Cassidy is really just attending etiquette classes a few times a week during the summer. The classes are sprinkled in among her other typical, life activities; this give the book a different feel and pacing than the book blurb suggests.
This middle grade novel is filled with a plethora of eccentric characters who are all quite likeable, but who often feel more like caricatures than authentic people.
The novel is a gentle read appropriate for young ages, but it would probably be of most interest to readers that are close to Cassidy's age (eleven years old) and are starting to go through that awkward stage of transitioning from a kid to a teen. Cassidy is an infectious character who grows on the reader and middle grade readers will be able to relate to her struggles with "growing up".
Content Analysis:
Profanity/Language: None
Violence/Gore: Report of animal with blood on tail (no description); report of bite from an animal; report/mention of how the Incas sacrificed babies (statement, no description); character briefly fantasizes about using fork, wrestling moves to thwart an imaginary assassin; story about the sinking of the Titanic and reference to drownings.
Sex/Nudity: Implied crushes; characters hold hands.
Mature Subject Matter:
Puberty/Tween Issues.
Alcohol / Drug Use:
Adults drink socially or are reported to drink socially; story told in which an adult drinks alcohol; adult smells of pipe smoke.
Reviewed By Cindy