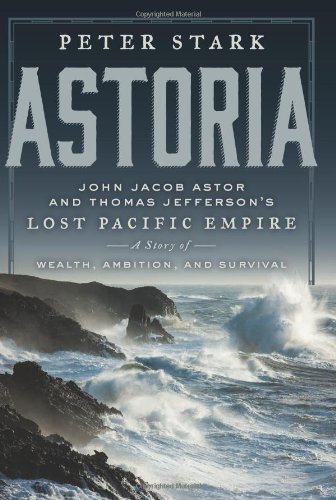 Publisher's Note:
In the tradition of The Lost City of Z and Skeleton in the Zahara, Astoria is the thrilling, true-adventure tale of the 1810 Astor Expedition, an epic, now forgotten, three-year journey to forge an American empire on the Pacific Coast. Peter Stark offers a harrowing saga in which a band of explorers battled nature, starvation, and madness to establish the first American settlement in the Pacific Northwest and opened up what would become the Oregon trail, permanently altering the nation's landscape and its global standing.
Six years after Lewis and Clark's began their journey to the Pacific Northwest, two of the Eastern establishment's leading figures, John Jacob Astor and Thomas Jefferson, turned their sights to founding a colony akin to Jamestown on the West Coast and transforming the nation into a Pacific trading power. Author and correspondent for Outside magazine Peter Stark recreates this pivotal moment in American history for the first time for modern readers, drawing on original source material to tell the amazing true story of the Astor Expedition.
Unfolding over the course of three years, from 1810 to 1813, Astoria is a tale of high adventure and incredible hardship in the wilderness and at sea. Of the more than one hundred-forty members of the two advance parties that reached the West Coast—one crossing the Rockies, the other rounding Cape Horn—nearly half perished by violence. Others went mad. Within one year, the expedition successfully established Fort Astoria, a trading post on the Columbia River. Though the colony would be short-lived, it opened provincial American eyes to the potential of the Western coast and its founders helped blaze the Oregon Trail.
Astoria: John Jacob Astor and Thomas Jefferson's Lost Pacific Empire: A Story of Wealth, Ambition, and Survival
by Peter Stark
Overall Review:
Take a trip to the Pacific Northwest in Astoria: John Jacob Astor and Thomas Jefferson's Lost Pacific Empire: A Story of Wealth, Ambition and Survival. This little known story follows two groups during the early nineteenth century -- one traveling by land, the other by sea -- as they attempt to colonize what is now the coast of Washington state. Drawing mostly from the explorers' journals and letters, author Peter Stark uses astute detail to take readers on this epic journey west. Stark skillfully introduces multiple individuals while keeping the plot moving, explaining the adventurers' difficult physical journey, as well as the heavy psychological toll and clash of cultures with the Indians tribes. The book's epilogue also provides interesting author commentary on what might have caused the explorers' hardships. A fantastic read!
Content Analysis:
Language/Profanity: 3 religious exclamations, 1 mild obscenity, 2 derogatory names.
Violence/Gore: Several verbal threats from local Indian tribes; several secondhand reports of violence involving shipwreck, torture, Indian attacks, beatings and ransacking an Indian village and suspicions of cannibalism; several brief scenes of violence involving Indian attacks, attempted suicide, a boating accident; several non-detailed scenes of violent death including suicide, hangings, explosions and characters shot with arrows; a few scenes of blood and gore involving torture and scalping; a brief scene of intense violence regarding the death of Captain Cook; an extended scene of violence involving an Indian massacre.
Sex/Nudity: A brief, non-sexual depiction of nudity; a few sexual references; reported sexual activity through the Indian's sexual bartering.
Mature Subject Matter:
Death of family members, war, suicide and attempted suicide, racial tensions, massacre, hangings, torture, physical and emotional hardships due to starvation, isolation and trauma.
Alcohol / Drug Use:
Individuals frequently smoke and drink.
Reviewed By Rachel