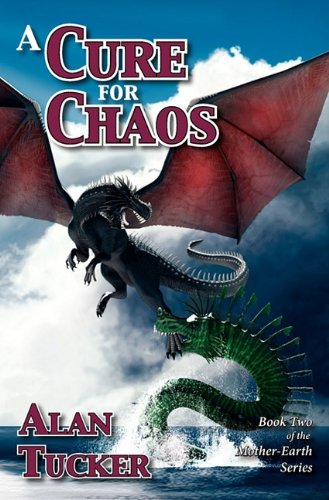 Publisher's Note:
Things are rarely what they seem ...
Especially when you're a shapeshifter. Jenni Kershaw just wanted a chance at a normal life. Well, maybe something a little better than normal. But perfect physical features weren't translating into happiness for Jenni as a freshman in high school. Something was still missing. Jenni never would have guessed that that something might be her old nemesis from junior high, Alisha, who shows up out of the blue, bearing a flag of truce...
This book was sent to Compass Book Ratings for review by MAD Design, Inc.
A Cure for Chaos
by Alan Tucker
Overall Review:
In this second book of the "Mother Earth Series", the adventure continues! With a much more polished feel than the first book, "A Cure for Chaos" delivers! Readers will be enthralled with the new twists and developments, and won't be able to put it down until they've reached the end to find out what happens to Jenni, her friends, and her family (and they will reach the end only to find a fantastic cliff-hanger that makes for a great entry into the third book). I am impressed by this series so far--the imagination, the details, the storyline--and would highly recommend it to older teens and young adults. Tucker's gift for imagination and detail, which is obvious throughout his series, is strengthened by fantastic dialogue in this second book. If the first book of the series could be worked over a bit to match the seamless flow of "A Cure for Chaos", Tucker would have a winning YA series that would definitely become a bestseller.
Content Analysis:
This book had a few very mild profanities in it.
As for violence, there were instances of serpent attacks, and hand to hand battle. Although there were many instances of violence, it was kept very mild.
The sexual content was VERY mild, but there were a few instances. The characters are starting to fall in love, and, for example, one character simply asks another, "Do you sleep together?" and the character answers no. So, absolutely nothing detailed at all, but there was a very mild kiss, and "mating" was brought up.

Overall, there were multiple instances for every content category in the book, but I found all of them very mild. My concern for this title would be the frequency of these instances--it's a borderline "clean read", just like the first book. All of the violence, sexual content, and profanity takes place in the second half of the book--the first half was squeaky clean! While I cannot recommend this book as a squeaky clean read overall, I still would recommend it as a great alternative to most of the fantasy books available to teens and YA. The series does have a "clean read" feel to it.
Mature Subject Matter:
***
Alcohol / Drug Use:
***
Reviewed By Melissa