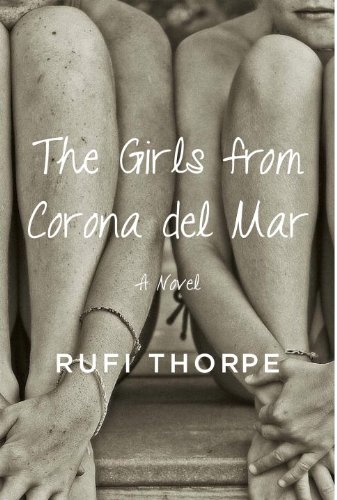 Publisher's Note:
"Why did Lorrie Ann look graceful in beat-up Keds and shorts a bit too small for her? Why was it charming when she snorted from laughing too hard? Yes, we were jealous of her, and yet we did not hate her. She was never so much as teased by us, we roaming and bratty girls of Corona del Mar, thieves of corn nuts and orange soda, abusers of lip gloss and foul language."

An astonishing debut about friendships made in youth, The Girls from Corona del Mar is a fiercely beautiful novel about how these bonds, challenged by loss, illness, parenthood, and distance, either break or endure.

Mia and Lorrie Ann are lifelong friends: hard-hearted Mia and untouchably beautiful, kind Lorrie Ann. While Mia struggles with a mother who drinks, a pregnancy at fifteen, and younger brothers she loves but can't quite be good to, Lorrie Ann is luminous, surrounded by her close-knit family, immune to the mistakes that mar her best friend's life. Then a sudden loss catapults Lorrie Ann into tragedy: things fall apart, and then fall further—and there is nothing Mia can do to help. And as good, brave, fair Lorrie Ann stops being so good, Mia begins to question just who this woman is, and what that question means about them both.

A staggeringly honest, deeply felt novel of family, motherhood, loyalty, and the myth of the perfect friendship, The Girls from Corona del Mar asks just how well we know those we love, what we owe our children, and who we are without our friends.
The Girls from Corona del Mar: A novel
by Rufi Thorpe
Overall Review:
If you're looking for a coming of age story, then you are reading the right review. This book will probably hit close to home for many women out there who have best friends who used to be better best friends. The characters Lorrie Ann and Mia are a perfect match as far as best friends go. One is pretty; one smart. One has the perfect family life; one feels like she wishes she could trade her family for another one altogether. As time moved on in this book, I could tell things might change. A lot. That is why I liked this book so much, because it is an honest look at how friendships between women evolve and change over the years. Most of us have experienced that; most of us mourn these lost friendships. And then some of us, like Lorrie Ann and Mia, hold on to the last threads of the friendship, in hopes that we can weave it back together again.
I loved that this book was tough and messy. I loved that it wasn't a "nice" story of two innocent girls who made some mistakes, but we don't get to know the consequences. The author sure knows how to write a book about teen life and the complexities that can occur as we grow up. This book isn't gentle. It's a book that confronts reality unashamedly and stares it in the face. Sometimes it's nice to come across books that are fictional, but that can be related to as though they are non-fiction. Though the situations in this book aren't something I can relate to firsthand, I know that they are very real, and some of them happen every day. This saddens me, and even though I feel helpless to do anything about it, one thing I can do is be aware and care. And that is what I will do.
Content Analysis:
Profanity/Language: 5 religious exclamations; 3 mild obscenities; 4 derogatory names; 17 scatological words; 4 anatomical terms; 57 F-word derivatives.
Violence/Gore: A character is mentioned to have died in a drunk driving accident; a minor crushes her toe with a hammer intentionally; a pet is mentioned to have been hit by a vehicle multiple times and injured; a character is mentioned to have died in a war; a house is broken into and a woman is attacked and beaten; a boy bites his sister and breaks skin, some blood is mentioned; a girl hits her brother with a wire hanger in retaliation; a character speaks about war, injuries sustained, and casualties of war; a woman describes birthing a child in detail that is quite graphic; child abuse is suspected; a character contemplates killing self; a child is mentioned to have died in a hospital from an illness; a woman gives birth and is mentioned to bleed a lot.
Sex/Nudity: Virginity is mentioned to have been lost; phone sex is referred to by minors; a minor gets pregnant and has an abortion, no description; a mature sexual discussion is had between minor females; sex and giving birth is spoken of bluntly; a man is referred to as gay; a woman finds sexually explicit photos of a same sex couple, some nudity is mentioned with no description; a dating couple kisses; a woman's sex parts are mentioned; sex is impiled between minors; sex is implied between adults; porn DVD's are mentioned; prostitution is mentioned with no detail; two women kiss each other; an unmarried woman is pregnant and considering giving her child up for adoption; sex is forced on a woman and bruises are seen by her friend; a woman is suspected to have been the victim of sexual abuse and rape, no detail is given; a man is mentioned to be cheating on his wife.
Mature Subject Matter:
Divorce, sexual abuse, teenage pregnancy, contemplated suicide, war, abortion, homosexuality, infidelity, rape, illegal drug use.
Alcohol / Drug Use:
A character abuses perscription drugs; a character is mentioned to be in the bathroom "shooting up"; a woman and a man drink and take drugs; adults drink often in social settings and alone; adults smoke; minor girls smoke cigarettes out of habit; crystal meth and marijuana is mentioned to be dealt; adults smoke pot in several scenes; a woman plans to get drunk; pot smoke is mentioned to be smelled; abuse of opiates; recreational drug use.
Reviewed By Lydia