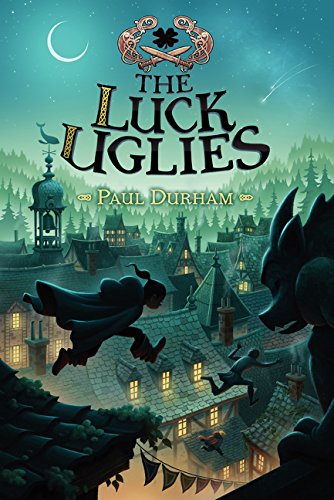 Publisher's Note:
The first in a series with the makings of a modern classic, The Luck Uglies is an irresistible cross between Joseph Delaney's The Last Apprentice and Chris Colfer's Land of Stories series, overflowing with adventure, secrets, friendship, and magic.
Rye O'Chanter has seen a lot of strange things happen in Village Drowning: children are chased through the streets. Families are fined for breaking laws that don't even exist. Girls aren't allowed to read anymore, and certain books—books that hold secrets about Drowning's past—have been outlawed altogether.
Now a terrifying encounter has eleven-year-old Rye convinced that the monstrous, supposedly extinct Bog Noblins have returned. Before the monsters disappeared, there was only one way to defeat them—the Luck Uglies. But the Luck Uglies have long since been exiled, and there's nobody left who can protect the village.
As Rye dives into Drowning's maze of secrets, rules, and lies, she begins to question everything she's been told about the village's legend of outlaws and beasts . . . and what she'll discover is that it may take a villain to save them from the monsters.
This critically acclaimed debut middle grade novel was named an ALA Notable Book and a New York Public Library Title for Reading and Sharing and won the Cybil Award for Middle Grade Speculative Fiction.
The Luck Uglies
by Paul Durham
Overall Review:
The Luck Uglies--such an odd title, but such a gem of a book. This was a charming middle grade fantasy that felt fresh--which is no small accomplishment in a demographic that boasts an almost over-whelming amount of fantasy-type books. The cast of characters is endearing, and they manage to be unique without feeling contrived. Riley, the eleven year old protagonist, is a bit of a tom-boy and the relationship she develops with a certain magnetic and mysterious newcomer is one of the highlights of the story. Crackerjack writing with a strategic drizzle and sprinkle of mysterious elements (and of course, a great map--what is a good fantasy without a fetching map to tantalize you?) make this a fantasy highly recommended for boys, girls, and adventure seekers of any age. Much to adore here!
Content Analysis:
Profanity/Lanuguage: None
Violence/Gore: Character grabbed by a fantasy creature, dropped, and rendered unconscious; character is poisoned; report of animal dying from poison; reports of missing livestock--implied death of; character briefly chronicles how he received various scars; looting; threat of torture and implied lashing; fantasy creature destroys property, eats livestock, threatens humans before captured and beaten (general description); encounter with soldiers in which child stabs an adult in the foot with a knife, and there is scuffling with individuals being injured, disarmed, rendered unconscious (general descriptions); verbal threats; report of fantasy creatures eating and hunting other fantasy creatures; characters throw stones at entrapped fantasy creature; verbal threats by fantasy creature and arm of human bit off (no description); brief skirmish with maces, swords, beating, etc.; pouring of boiling water onto characters; evidence of wounds from battle; characters are seen on ground and it is implied that they are hurt and possibly dead; soldiers battle fantasy creature with arrows, sword, etc. and a human is injured by a bite; battle scene with explosion, deaths not described but could be inferred; character is known to battle a fantasy creature and kill it, but the scene happens "off-page".
Sex/Nudity: It is mentioned that it is not known who a character's father is.
Mature Subject Matter:
Death, loss of a parent, corruption of leaders.
Alcohol / Drug Use:
Adults drink wine, etc. with dinner and in taverns; a character is a known drunk.
Reviewed By Cindy