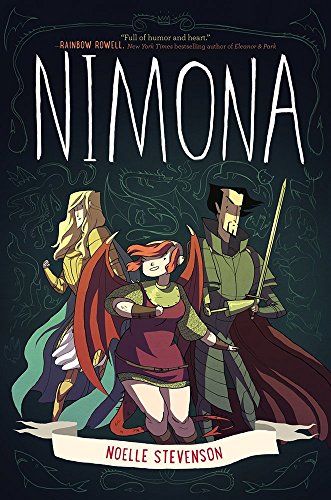 Publisher's Note:
The graphic novel debut from rising star Noelle Stevenson, based on her beloved and critically acclaimed web comic, which Slate awarded its Cartoonist Studio Prize, calling it "a deadpan epic."
Nemeses! Dragons! Science! Symbolism! All these and more await in this brilliantly subversive, sharply irreverent epic from Noelle Stevenson. Featuring an exclusive epilogue not seen in the web comic, along with bonus conceptual sketches and revised pages throughout, this gorgeous full-color graphic novel is perfect for the legions of fans of the web comic and is sure to win Noelle many new ones.
Nimona is an impulsive young shapeshifter with a knack for villainy. Lord Ballister Blackheart is a villain with a vendetta. As sidekick and supervillain, Nimona and Lord Blackheart are about to wreak some serious havoc. Their mission: prove to the kingdom that Sir Ambrosius Goldenloin and his buddies at the Institution of Law Enforcement and Heroics aren't the heroes everyone thinks they are.
But as small acts of mischief escalate into a vicious battle, Lord Blackheart realizes that Nimona's powers are as murky and mysterious as her past. And her unpredictable wild side might be more dangerous than he is willing to admit.
Nimona
by Noelle Stevenson
Overall Review:
Some fans of the web comic of Nimona will already be familiar with the contents of this book. However, if you're like me and had only heard of the comic and book and hadn't yet read any of it, then you will be in for a wild ride! Despite the fact that this is a comic, it is quite violent at times, but that just helps drive home the point that the heroine in this story, Nimona, is a girl who is not to be messed with.
The world seems to enjoy seeing a woman that is empowered and can fend for herself. Nimona is that, and more. She makes it clear within the first few pages that she isn't just your average girl, and by the end of this book, I pretty much wanted to be Nimona. Noelle Stevenson, the author of this fabulous book, also drew the comic parts, and the pictures in this book are vibrant and eye-catching. Although the story is a pretty quick read, the pictures beg to be studied, and admiring them can pull you in and make you lose a good chunk of time. (Not a bad thing, in my opinion.)
Not only is this book a good one for girls, but boys might also find themselves falling in love with Nimona and her spunky attitude. I really enjoyed the fact that this particular graphic novel was easy to follow and didn't have way too many characters to keep track of. Nimona is my new hero, and I hope she soon becomes yours!
Content Analysis:
Profanity/Language: 1 religious exclamation; 8 mild obscenities.
Violence/Gore: A murder is plotted and discussed; characters plan to destroy buildings by blowing them up; a character is in a jousting accident and his arm is severed; a shape shifter turns into an animal and attacks a character, then turns into a human and stabs a character; a building is shown in a picture destroyed, casualties are mentioned to have occurred; a family is recalled to have been attacked by raiders, a whole village is mentioned to have been killed in the raid; a drawing of an animal being attacked is shown, some blood is also depicted; a bank is robbed in one scene, verbal and physical threats are made, guns and fighting is briefly shown; a minor is shown to have been shot in the leg with an arrow, the injury includes some blood and pain; a fist fight occurs in a bar between two characters; a multiple page fight is depicted in pictures and words, this includes animals fighting humans, animals fighting animals, a girl being injured, a mythical creature having its head chopped off (and supposedly dying); multiple violent scenes are depicted of monsters fighting and buildings being destroyed.
Sex/Nudity: None

Mature Subject Matter:
Death, personal crises, good and evil.
Alcohol / Drug Use:
Two men depicted drinking at a bar.
Reviewed By Lydia