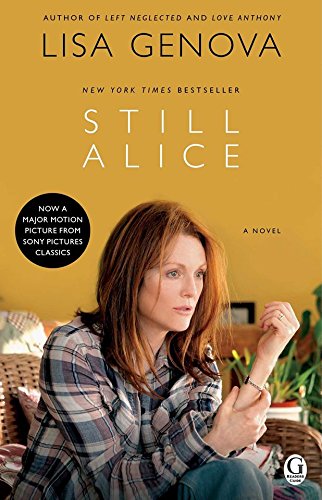 Publisher's Note:
In Lisa Genova's extraordinary New York Times bestselling novel, an accomplished professor diagnosed with Alzheimer's disease learns that her worth is comprised of more than her ability to remember. Now a major motion picture from Sony Pictures Classics starring Julianne Moore, Alec Baldwin, Kate Bosworth, and Kristen Stewart! Look for Lisa Genova's next novel Inside the O'Briens.

Alice Howland is proud of the life she worked so hard to build. At fifty years old, she's a cognitive psychology professor at Harvard and a world-renowned expert in linguistics with a successful husband and three grown children. When she becomes increasingly disoriented and forgetful, a tragic diagnosis changes her life—and her relationship with her family and the world—forever.

At once beautiful and terrifying, Still Alice is a moving and vivid depiction of life with early-onset Alzheimer's disease that is as compelling as A Beautiful Mind and as unforgettable as Ordinary People.
Still Alice
by Lisa Genova
Overall Review:
This was a personal read for me and so this review cannot help but be personal in nature. My brother told me I should read the book; my father told me I should see the movie. It took all my courage to read the book so it will be a while before I see the movie. Like the protagonist, Alice, my mother has early onset Alzheimer's.
The author attempts to tell the story of the progression of this horrible disease from the perspective of the afflicted individual. Many books look at something from the outside, but this book hypothesizes what the inside looks like. Although the pacing of the events/symptoms in this book are adapted in many ways for the purposes of the narrative, the order, degree, and quality of the events rang absolutely true with my personal experience. The emotional nature of the book was also spot-on with the ethical and practical dilemmas encountered as the disease progresses. Over and over again, the author nailed it. This is a valuable story for our society that is looking at an ever-aging population that will be faced with increased cases of Alzheimer's and age-related dementia.
I hated every word of this book. Yes, it was that good and it deserved every star it received. This book should be read by everyone. Yes, everyone.
For middle grade and young teenage readers looking for a perspective on this topic, I suggest Curveball: The Year I Lost My Grip.
Content Analysis:
Profanity/Language: 10 religious exclamations; 9 mild obscenities; 4 scatological words; 2 anatomical terms; 6 F-Word derivatives.
Violence/Gore: Report of deaths in car accident; character bangs head.
Sex/Nudity: Reference to tampons, condoms, sex; brief discussion of characters attempts to conceive and use of intrauterine insemination, etc.; characters skinny dip in the ocean, non-descriptive; character is naked while trying to change clothes, non-descriptive.
Mature Subject Matter:
Alzheimer's, suicide, medical ethics, personal and family crisis.
Alcohol / Drug Use:
Alcohol drunk socially by adults; prescription medication for Alzheimer's; character was reported to be a drunk; accident caused by drunk driving.
Reviewed By Cindy