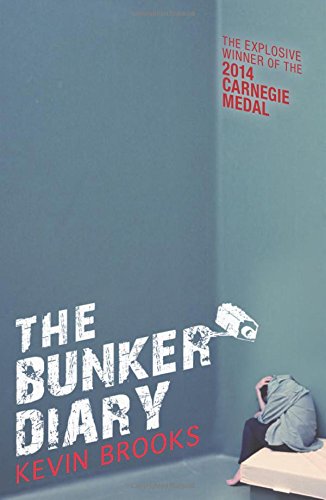 Publisher's Note:
This is the winner of the 2014 Cilip Carnegie Medal. Room meets Lord of the Flies, The Bunker Diary is award-winning, young adult writer Kevin Brooks' pulse-pounding exploration of what happens when your worst nightmare comes true - and how will you survive? I can't believe I fell for it. It was still dark when I woke up this morning. As soon as my eyes opened I knew where I was. A low-ceilinged rectangular building made entirely of whitewashed concrete. There are six little rooms along the main corridor. There are no windows. No doors. The lift is the only way in or out. What's he going to do to me? What am I going to do? If I'm right, the lift will come down in five minutes. It did. Only this time it wasn't empty...Praise for The Bunker Diary: "[Kevin Brooks'] pacey plots ...have made him a cult among teens. This, though, is the big one. It should be read by everyone". (Amanda Craig, The Times). Kevin Brooks has won the Branford Boase Award and been shortlisted for the Guardian Children's Fiction Award, the Booktrust Teenage Prize, the Manchester Book Award and for the Carnegie Medal (for Martyn Pig, Road of the Dead and Black Rabbit Summer). Kevin Brooks was born in Exeter and studied in Birmingham and London. He had a varied working life, with jobs in a crematorium, a zoo, a garage and a post office, before - happily - giving it all up to write books. Kevin is the author of Being, Black Rabbit Summer, Killing God (published as Dawn in the USA), iBoy and Naked for Penguin. He now lives in North Yorkshire. If you enjoyed The Bunker Diary and want to get inside more of your favourite books, then check out spinebreakers.co.uk for exclusive author interviews, competitions and much more.
This book was sent to Compass Book Ratings for review by Lerner Publishing Group
The Bunker Diary
by Kevin Brooks
Overall Review:
The Bunker Diary by Kevin Brooks was awarded the 2014 CILIP Carnegie Medal. This is an award given in the United Kingdom for an outstanding book for young people. I'm thinking that the standards in the UK for outstanding literature for young people are different from those in the United States. The entire time I was reading this book, I kept thinking that eventually there would be some substance to the plot line and I would realize why the author wrote the book. Unfortunately, I am still asking why even after finishing it. I wanted to know why the characters were being held captive and who their captor was. I wanted to know the author's purpose and intent for writing it. I would hate to be given this book in a literature class to describe the author's purpose. I did like one quote from the main character; he said, "Smart is.....knowing how to think".
Content Analysis:
Profanity/Language: 18 religious exclamations; 22 mild obscenities; 1 religious profanity; 8 derogatory names; 56 scatological words; 18 f-word derivatives.
Violence/Gore: Multiple characters are attacked and thought to be drugged with chloroform to be kidnapped; character is hit with a vehicle and then hit over the head with an iron bar; character is electrocuted; character is sprayed with a burning chemical; loud whistle is used to inflict pain causing ears to bleed; character recalls his mom whacking him multiple times when he was young; character has a cartoon type dream with some violence after being drugged (four pages); animal attacks a character and almost kills him; character kills an animal (with details); character kills and eats cockroaches; character goes mad and tugs violently on his wound on his neck; character is strangled to death; character attacks a minor aged character; character kills another character by hitting him with his head; character commits suicide with details; character has thoughts of what another character has done with the bodies; character drinks bleach and commits suicide with details; minor age character dies; character recalls his mom dying when he was nine.
Sex/Nudity: Character is found naked and dead; characters use the restroom; character admits to being gay.
Mature Subject Matter:
Kidnapping/abduction, drug use/withdrawals, suicide, death, death of parent, murder.
Alcohol / Drug Use:
Character mentions people being drunk and finding their half-empty packs of cigarettes; character states that his dad is probably drunk on brandy and dope; character recalls drinking in a bar and on a train; characters smoke; characters drink vodka; character references another character being whacked out of his head and another of being sobbing drunk; character is said to have been drunk all the time; chloroform used to drug characters; character is thought to be having withdrawals from heroin; character recalls his dad being high on cocaine and alcohol; characters are drugged; characters are blasted with knock-out gas.
Reviewed By Nicole