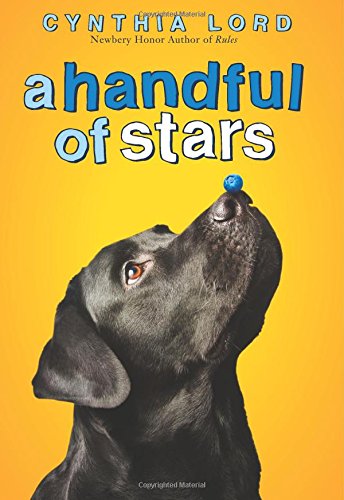 Publisher's Note:
This powerful middle-grade novel from the Newbery Honor author of RULES explores a friendship between a small-town girl and the daughter of migrant workers.

When Lily's blind dog, Lucky, slips his collar and runs away across the wide-open blueberry barrens of eastern Maine, it's Salma Santiago who manages to catch him. Salma, the daughter of migrant workers, is in the small town with her family for the blueberry-picking season.

After their initial chance meeting, Salma and Lily bond over painting bee boxes for Lily's grandfather, and Salma's friendship transforms Lily's summer. But when Salma decides to run in the upcoming Blueberry Queen pageant, they'll have to face some tough truths about friendship and belonging. Should an outsider like Salma really participate in the pageant-and possibly win?

Set amongst the blueberry barrens and by the sea, this is a gorgeous new novel by Newbery Honor author Cynthia Lord that tackles themes of prejudice and friendship, loss and love.
This book was sent to Compass Book Ratings for review by Scholastic
A Handful of Stars
by Cynthia Lord
Overall Review:
Cynthia Lord has a way making of her realistic fiction novels come to life and A Handful of Stars is no exception. Set in scenic Maine during the blueberry harvest season, this real-life story and its real-life lessons come to life as Lily has a memorable summer. She is worrying about her dog, Lucky, who is going blind. She is wondering what went wrong with her relationship with her best friend. And amongst this, all she makes a new friend with a migrant farm worker, Salma. Together they forge a friendship and change a town's way of thinking.
A Handful of Stars is not only a compelling story about a 13 year old learning her way as a teenager, but it also addresses some more complex issues of the time. Salma, the daughter of migrant farm workers, is only there temporarily, but she has so much to offer. To help her, Lily must look beyond herself and her problems and help Salma achieve her dream. She also grapples with the loss of her mom and her relationship with her grandparents as well as take care of a blind dog that her grandma resents. These are all things that Lilly needs to come to grips with and it is this journey, so realistically depicted by the author, that makes this a compelling read. As a reader, I found myself pulled into both Lilly's and Salma's stories, wanting them to learn and grow, while achieving what they most desire. This would be the perfect book for any pre-teen struggling to find themselves and what it means to look beyond yourself and help others.
Content Analysis:
Profanity/Language: None
Violence/Gore: Mention of parent having died in a car accident.
Sex/Nudity: None
Mature Subject Matter:
Death of parent.
Alcohol / Drug Use:
Mention of men smoking cigarettes.
Reviewed By Sally