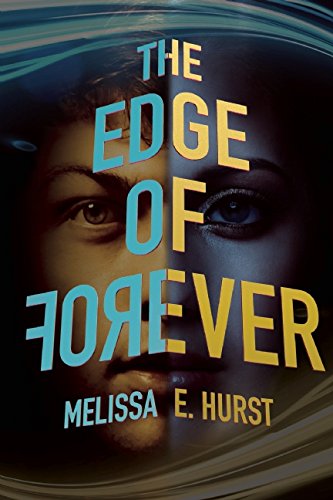 Publisher's Note:
In 2013: Sixteen-year-old Alora is having blackouts. Each time she wakes up in a different place with no idea of how she got there. The one thing she is certain of? Someone is following her.

In 2146: Seventeen-year-old Bridger is one of a small number of people born with the ability to travel to the past. While on a routine school time trip, he sees the last person he expected—his dead father. The strangest part is that, according to the Department of Temporal Affairs, his father was never assigned to be in that time. Bridger's even more stunned when he learns that his by-the-book father was there to break the most important rule of time travel—to prevent someone's murder.

And that someone is named Alora.

Determined to discover why his father wanted to help a "ghost," Bridger illegally shifts to 2013 and, along with Alora, races to solve the mystery surrounding her past and her connection to his father before the DTA finds him. If he can stop Alora's death without altering the timeline, maybe he can save his father too.
This book was sent to Compass Book Ratings for review by Sky Pony Press
The Edge of Forever
by Melissa E. Hurst
Overall Review:
Melissa Hurst's debut YA novel The Edge of Forever cleverly compounds secrets, lies, and time-traveling teens for a fun, science fiction read. Through first person narrative, readers are introduced to protagonists Alora and Bridger. Each chapter shifts to alternating points of view and time periods: Alora in the year 2013, and Bridger in the year 2146. Although this may sound like a confusing concept, Hurst manages to give each protagonist a unique voice so as not to mix up readers. (If in doubt, just revert back to the chapter heading which states the date and narrating character.) The interaction between characters is not the most stirring part of the novel, as it is filled with corny statements and cliché behavior, but since this is geared towards a younger audience, it will likely appeal to the targeted market.
The suspenseful plot and exciting build are what make the novel a compelling read and will hopefully overthrow any misgivings the reader may have about the writing quality and character dynamics. The time shifting and genetic modifications of the future are a fun back drop to the main plot which is the time old adage, "Save the girl!" Although it may be a song that's been sung before, Ms. Hurst's ability to play off inventive settings and precepts make it a new tune worth listening to. By the end you may think you have it all figured out, but don't be too sure as readers are left with a major cliff-hanger that will hopefully be resolved in a follow-up novel.
Do you enjoy action adventure with melodramatic teen turmoil? Check out Trent Reedy's Divided We Fall.
Want more fantastical elements with your time travel? Try Scorched by Mari Mancusi.
Review of a Digital Advance Review Copy
Content Analysis:
Profanity/Language: 15 religious exclamations; 47 mild obscenities; 9 derogatory names; 19 scatological words; 19 anatomical terms.
Violence/Gore: Secondhand report of an assassination that led to a war; gun fire heard implies character(s) were shot; character finds another character unconscious and bleeding; brief secondhand report of violent death; report of death as result of earlier injuries; brief secondhand report of shooting and kidnapping; character is bumped by a car sustaining minor injuries; character forcibly grabs another character (about 3x); character is shot with a stun gun; character has thoughts about harming another character (about 2x); character shoots other characters with stun gun; character threatens another character (about 2x); character has violent thoughts/ wishes to harm another (about 2x) ; secondhand report of death; mention of characters having been attacked; report of female character being murdered and sexually assaulted; character briefly witnesses the aftermath of a car accident, report of death and injury; report of a painful process that involves memory extraction; character is hit in the head, kidnapped, and tied up; character is threatened with a knife; characters shoot other characters with stun guns; character is threatened with a gun; extended scene (about ½ page) teen female struggles with adult male to be free by hitting, slapping, kicking; character threatens to shoot another character; character punches, stuns with gun, and kicks another character; report that a character is a serial rapist and murderer; character throws an object at another character, character shoots gun; character threatens to shoot and kill another character (about 3x); character briefly recalls their parent being injured, blood mentioned; character kicks another character; character is shot and injured; 2 non-detailed scenes of violent death.
Sex/Nudity: Characters hold hands and/or hug (less than 5x); male character rubs female character's neck; male character places finger on female character's lips; kiss (somewhat descriptive); sexual references, "gone there" and "screw"; report of kiss; few (less than 5) brief mentions of conception by sperm donor; female sees male character in his underwear; report of female being sexually assaulted; child is born out of wedlock; teen female character endures the unwelcome advances of adult male character in which he caresses her face and neck, and licks her face; report that a character is a serial rapist.
Mature Subject Matter:
Violent death(s), unknown paternity, child abandonment, government conspiracy, illegal activities by adult(s) and juvenile(s).
Alcohol / Drug Use:
Teens attend party where alcohol is being served and consumed; mention of teen character being intoxicated.
Reviewed By MaryLou