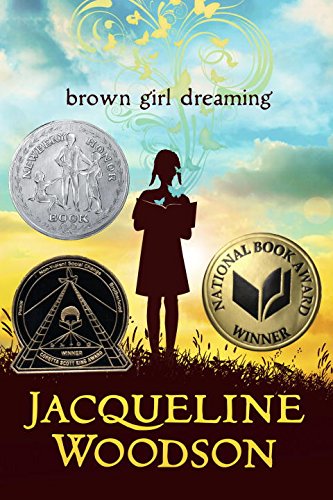 Publisher's Note:
National Book Award Winner

Jacqueline Woodson, one of today's finest writers, tells the moving story of her childhood in mesmerizing verse.

Raised in South Carolina and New York, Woodson always felt halfway home in each place. In vivid poems, she shares what it was like to grow up as an African American in the 1960s and 1970s, living with the remnants of Jim Crow and her growing awareness of the Civil Rights movement. Touching and powerful, each poem is both accessible and emotionally charged, each line a glimpse into a child's soul as she searches for her place in the world. Woodson's eloquent poetry also reflects the joy of finding her voice through writing stories, despite the fact that she struggled with reading as a child. Her love of stories inspired her and stayed with her, creating the first sparks of the gifted writer she was to become.
Brown Girl Dreaming
by Jacqueline Woodson
Overall Review:
I have to admit it. I am hooked by a book of poetry. While not a fan of this genre, I couldn't put Jacqueline Woodson's Brown Girl Dreaming down until I had finished it. Each free verse poem is like a chapter in a book inviting you into her home to meet her parents and grandparents and feel her struggles and victories. These chapters flow together so smoothly that the reader is captured by the beauty of the language and the story of Jacqueline Woodson's life as a young girl. It is set between Columbus, Ohio, South Carolina, and finally Brooklyn, New York, during the 1960s and 1970s so right away the reader understands this is a young girl growing up during the civil rights issues of that time, but there is much more depth.
Every reader of any age can find himself some place in this award-winning book Newbery Honor book because it is an American story, i.e. a family divided, believing in your own worth, grandparents who provide stability and love, individuals forever changed by crime, civil rights, finding your passion, death and loss. Every family has its own rhythm and I was fascinated by this family--so different from mine and yet in so many ways the same.
The storyline is powerful but its impact is created by the gift of Ms. Woodson's language. It is concise and measured with no wasted words, so it reads easily and cleanly. She doesn't dwell on sadness and life goes on hopeful and poignant at the same time. Younger children will need some explanation of the civil rights people she mentions but that is only a piece of her story. For the most part, one is warmly invited to be in her home, to meet her family, and be a part of her life for a short time.
Content Analysis:
Profanity/Language: None
Violence/Gore: None
Sex/Nudity: None
Mature Subject Matter:
Social Conflicts (racial), death of family members, family/personal crisis (divorce, separation), illness, imprisonment of a family member.
Alcohol / Drug Use:
None
Reviewed By Marilyn