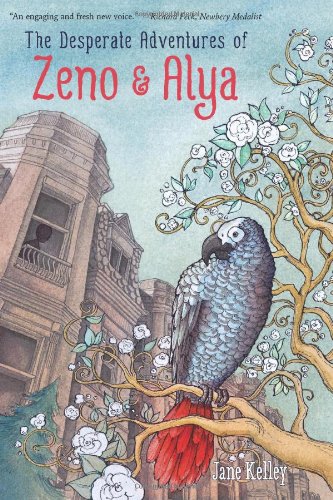 Publisher's Note:
An orphaned African grey parrot who can speak 127 words. A girl so sick, she has forgotten what it means to try. Fate--and a banana nut muffin--bring them together. Will their shared encounter help them journey through storms inside and out? Will they lose their way, or will they find what really matters?

Here is a story that will remind readers how navigating so many of life's desperate adventures requires friendship and, above all, hope.
The Desperate Adventures of Zeno and Alya
by Jane Kelley
Overall Review:
The cover of this book looks a bit mysterious and shady, but the story inside is neither of those things! Instead, it is a story of a young girl, a parrot, and a friendship that comes directly from the heart. I wasn't sure exactly how this book was going to settle with me, as it starts out being narrated by a bird. Zeno isn't just any bird though, he is an African Grey parrot, and he is so intelligent I felt as though I was reading from a human's perspective.
In the next chapter, I was introduced to Alya, a young girl who is confined to her bedroom. Between the two of these spunky narrators, there is never a dull moment in this book. From journeys over stormy waters, to reading The Secret Garden, this book has everything it needs to be a great story. I was very pleased at how the author kept her book low in content, and how well the characters seemed to relate to real-life kids. I'm thinking this book might be a good one to introduce to a young reader who is wanting something a bit similar to John Green's The Fault in Our Stars as it has the drama and the love story (in a way), but is totally appropriate for young readers.
Content Analysis:
Profanity/Language: None
Violence/Gore: A character is depicted lying on the floor and it is implied that he has died from natural causes; an angry character knocks over birdcages; a bird is depicted snatching up another bird with the intention to kill it.
Sex/Nudity: None
Mature Subject Matter:
Cancer.
Alcohol / Drug Use:
None
Reviewed By Lydia