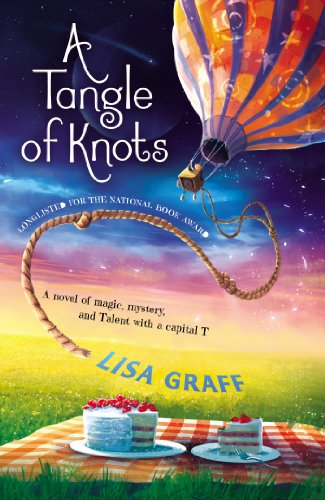 Publisher's Note:
A National Book Award nominee!

The magic of Savvy meets the complexity of When You Reach Me in this "blithe magical puzzle," --The Wall Street Journal

Told in multiple viewpoints, A Tangle of Knots is a magnificent puzzle. In a slightly magical world where everyone has a Talent, eleven-year-old Cady is an orphan with a phenomenal Talent for cake baking. But little does she know that fate has set her on a journey from the moment she was born. And her destiny leads her to a mysterious address that houses a lost luggage emporium, an old recipe, a family of children searching for their own Talents, and a Talent Thief who will alter her life forever. However, these encounters hold the key to Cady's past and how she became an orphan. If she's lucky, fate may reunite her with her long-lost parent.

Lisa Graff adds a pinch of magic to a sharply crafted plot to create a novel that will have readers wondering about fate and the way we're all connected.
A Tangle of Knots
by Lisa Graff
Overall Review:
I've been reading Lisa Graff's books since I was a little kid. I picked up A Tangle of Knots out of curiosity because the cover was just so delicious. When I read the synopsis, I knew this book would be one I would fall in love with. Though it is told from a whole slew of different characters' viewpoints, this book was quite easy to follow. I don't know which character to choose as my favorite; they were all so much fun to get to know!
I felt like the main character in this book was that of a young girl named Cady. She has a Talent (Which is like a regular talent, except most everyone in this book finds their Talent; it's something they're born with. If you don't have a Talent, you are Fair--just an ordinary human.) for making cakes that suit a person to a 'T'. For some people it is a regular old yellow cake with chocolate frosting. For others it is more complex cake, perhaps a red velvet almond cake with buttercream frosting and cherries on top!
Cady lives in a home for children that don't have parents. She has lived there for years, even though other kids have come and gone, but that's okay, because she is quite content just where she is. And where is she? It is much more than an orphanage. It is a home for lost luggage, secrets, a quirky family, and a man who just might be the downfall of them all. This book was marvelous, from the first page to the last. I fear this review won't give it justice so you will just have to read the book for yourself to see how likeable the characters are, and how magical one short story can be!
Content Analysis:
Profanity/Language: 2 mild obscenities.
Violence/Gore: A character is mentioned to have suffered a stroke; a minor steals items from people to sell for money; a minor girl pushes her brother into the street on a bike (trying to hurt him); a minor hits an adult; an adult pushes a minor; a hot air balloon is mentioned to crash; a wife is mentioned to have passed away.
Sex/Nudity: None

Mature Subject Matter:
Child abandonment, thievery, adoption, death.
Alcohol / Drug Use:
None
Reviewed By Lydia