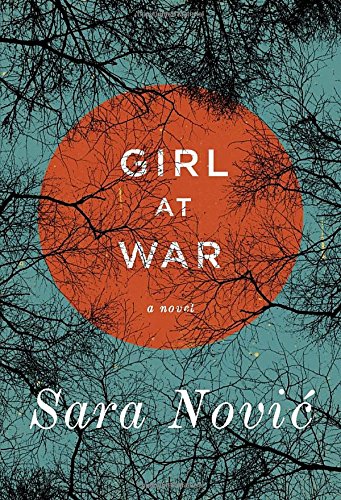 Publisher's Note:
For readers of The Tiger's Wife and All the Light We Cannot See comes a powerful debut novel about a girl's coming of age—and how her sense of family, friendship, love, and belonging is profoundly shaped by war.

Zagreb, 1991. Ana Juri? is a carefree ten-year-old, living with her family in a small apartment in Croatia's capital. But that year, civil war breaks out across Yugoslavia, splintering Ana's idyllic childhood. Daily life is altered by food rations and air raid drills, and soccer matches are replaced by sniper fire. Neighbors grow suspicious of one another, and Ana's sense of safety starts to fray. When the war arrives at her doorstep, Ana must find her way in a dangerous world.

New York, 2001. Ana is now a college student in Manhattan. Though she's tried to move on from her past, she can't escape her memories of war—secrets she keeps even from those closest to her. Haunted by the events that forever changed her family, Ana returns to Croatia after a decade away, hoping to make peace with the place she once called home. As she faces her ghosts, she must come to terms with her country's difficult history and the events that interrupted her childhood years before.

Moving back and forth through time, Girl at War is an honest, generous, brilliantly written novel that illuminates how history shapes the individual. Sara Novi? fearlessly shows the impact of war on one young girl—and its legacy on all of us. It's a debut by a writer who has stared into recent history to find a story that continues to resonate today.
This book was sent to Compass Book Ratings for review by Random House
Girl at War
by Sara Novic
Overall Review:
Girl at War is powerful debut fiction by author Sara Novic. Set during the Yugoslav Wars (1990 to 2001) the book follows young Ana Juric as she attempts to survive in her war-ravaged country. Ana is a haunting yet realistic main character. At the beginning of the novel Ana provides a childlike perspective of war. After several horrific experiences, she grows mature, yet tired; tough but battered. Ana's transformation from child to adult is so convincing readers will find it hard to believe she is a fictional character.
Sara Novic proves she is a fantastic writer, stringing words together to create beauty in a backdrop where little can be found. The story is presented in sections and veers back and forth between the past and present, allowing the plot's momentum to build slowly. Though the ending felt sudden and uncharacteristically abrupt, Girl at War is a stunning novel and will stay with readers long after the last page.
Review of Advance Reader Copy
Content Analysis:
Profanity/Language: 13 religious exclamations, 8 mild obscenities, 2 religious profanities, 2 derogatory names, 20 scatological words, 3 anatomical terms, 17 f-word derivatives.
Violence/Gore: A scene of mischief as children "play war"; a character is verbally threatened; several secondhand reports of violence involving suicide, mass killings, bombs, rockets, other war crimes and terrorist attacks including 9/11; several brief scenes of violence involving bombings and shooting at enemy soldiers; characters see bombs hit buildings and destroy them; a few non-detailed scenes of violent death including exchange of gunfire and being hit by the butt of a rifle; a few brief scenes of intense violence with blood and gore when characters are attacked by the enemy, a character shoots an enemy solider at close range and a character's leg is cut off in attempt to spare his life; an extended scene of intense violence when a character and others are lined up and executed, with their bodies dumped in a pit.
Sex/Nudity: Frequent incidents of kissing; a few sexual references; a few reported accounts of rape by enemy soldiers; a brief scene of sexual activity without explicit detail between adults.
Mature Subject Matter:
War, battle, death of friends and family members, ethnic cleansing and genocide, racial tensions, refugees, 9/11 and terrorist attacks, child soldiers, disabilities, mention of suicide and rape, underage drinking and smoking.
Alcohol / Drug Use:
Characters frequently drink and smoke, including minors. A minor is instructed to buy cigarettes for an adult. A scene takes place in a bar and a character returns home drunk.
Reviewed By Rachel