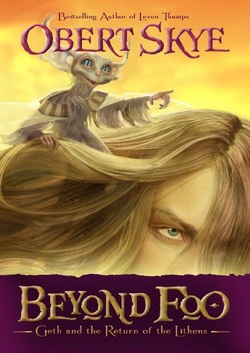 Publisher's Note:
Book one in a new unFOOgettable trilogy! Geth has existed for hundreds of years. In Foo, the realm that allows us to hope, imagine, and dream, Geth is one of the strongest and most respected beings, a powerful and wise lithen. At the conclusion of the Leven Thumps series, the realm of Foo has once again found balance dreams can thrive and grow. With things in order, Geth and Clover set off to find a new adventure that leads beyond the guarded border of Foo and into an unknown land where dreams have been trapped and freedom has been crushed. Geth, always a defender of fate and truth, takes readers on a page-turning quest with many life lessons to be learned. What we want is often buried in what we fear. Geth, I'd like to imagine, is a world where there is nothing but happiness and purring, but I'm not sure there'd be much to cheer about if every day was nothing but sunshine and success. I suppose you can never know the good if you ve never been visited by the bad. --Obert Skye, Geth and the Return of the Lithens
This book was sent to Compass Book Ratings for review by Shadow Mountain
Geth and the Return of the Lithens (Beyond Foo #1)
by Obert Skye
Overall Review:
Did you ever wonder where the figures in your dreams go? Well, apparently, they go to Foo. But that story is for another time. This is the first in a new series by author Obert Skye ('Leven Thumps' series) that goes beyond of the land of Foo with its happy dreams and hopes. What lies beyond? It's definitely not pretty! It's still something out of your dreams, but there's no hopeful golden glow here! This is a great story full of adventure and hilarious cheesy one-liners that will have you chuckling throughout! I looked forward to the opening paragraph of every single chapter when the narrator would wax eloquent on some totally random point in preparation for more of the story. Highly entertaining for everyone, but I think it would especially appeal to young boys. This is the first in a companion series, but you don't necessarily have to have read the other series to like this one (although now I'm interested). Apart from the fun adventure and silliness, I appreciated the theme: Trust in fate; but sometimes, fate needs a little push. Do you have what it takes to help fate out?
Content Analysis:
I found nothing questionable in this novel. It is fun and full of adventure without gory violence, inappropriate words or phrases, or scenes. I would have no problem giving this to my son to read by himself (he's 8). There is one part where an animal falls to its death. It's not graphic, though. And there's a fight between a character and a scary monster that involves a lot of fire. Could be intense for young kids, but, again, it's not graphic or drawn out. There are a few scary creatures and some tense moments. The only theme that I would consider slightly mature was the question of bravery vs. foolishness. I would recommend this as a great read aimed toward ages 9-12, but I could even see myself reading it out loud to my kids.
Mature Subject Matter:
***
Alcohol / Drug Use:
***
Reviewed By Emily