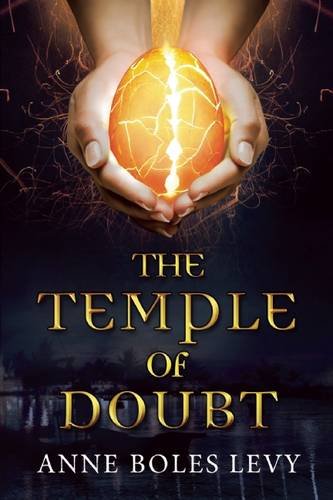 Publisher's Note:
Set on a unique and magical planet called Kuldor, The Temple of Doubt tells the story of a young girl who pits her doubts against her faith.

It's been two six-days since a falling star crashed into the marshes beyond Port Sapphire, putting the wilds off-limits to fifteen-year-old Hadara, a loss she feels deeply. She's eager to join her mother beyond the city limits to gather illegal herbs and throw off the yoke of her tedious religious schooling. Medicines of any sort are heresy to the people of Port Sapphire, who must rely on magic provided by the god, Nihil, for aid. And if people die from that magic, their own lack of faith is surely to blame. At least, that's what Hadara's been taught—and has so far refused to believe.

Hadara and her mother have ignored the priests' many warnings about their herb gathering, secure in knowing their tropical island is far from Nihil's critical gaze. Then two powerful high priests arrive from Nihil's home city to investigate the fallen star, insisting it harbors an unseen demon. This sets off speculation that an evil force is already at work in Port Sapphire and brings one of the holy men to Hadara's doorstep. When he chooses Hadara as a guide into the wilds, she sets off a chain of events that will upend everything she's been taught about the sacred and the profane.

The Temple of Doubt is the first installment in a series that follows a teenager who is given a greater destiny and purpose than she could've ever imagined.
This book was sent to Compass Book Ratings for review by Sky Pony Press
The Temple of Doubt
by Anne Boles Levy
Overall Review:
Anne Boles Levy's debut novel The Temple of Doubt emerges with religious magicians, demonic possession, and primitive island lore, entreating readers with elements that are both familiar and unusual. Although the mythical world is somewhat hard to wrap one's head around, the amusing imaginary creatures that Levy creates and entertaining family dynamics are the high points of the novel.
Narrated by teen protagonist Hadara, readers are introduced to her home of Port Sapphire located on the magical planet of Kuldor. This is a world where magic is regarded as a godly cure-all and any medicinal knowledge or usage is denoted as unfaithful.
Hadara is an enjoyable character with a feisty, opinionated manner. Her audacious behavior is all the more endearing considering the story unfolds in a stifling environment. Contending with all that has been tried to be indoctrinated into her, Hadara still has her doubts and those doubts could mean trouble for the temple. Abounding with religious fanaticism and hypocrisy, the tale at times can be more of a tirade with choppy rants and foggy facts rather than a smooth-sailing narrative.
The few idiosyncrasies that materialize shouldn't curb readers enthusiasm too much for the coming 3 novels (series is set to be a quad) as first time novelist's introductory works are bound to have a few kinks that need adjusting.
Although the prose doesn't quite serenade, the storyline is curiously creative and may allure fans of Marissa Meyer and Leigh Bardugo.
Review of an electronic Advance Review Copy
Content Analysis:
Profanity/Language: 2 mild obscenities; 1 derogatory name.
Violence/Gore: Adult slaps teen character's arm causing welts; character's sibling is threatened with violence; few mentions of sacrificial deaths; character has murderous thoughts; character is elbowed and pushed; implication that characters died violently; character references killing another character; characters are tossed around, character threatened with a dagger; character wraps their hands around another character's neck in a threatening manner; characters imply that they may rape another character; character stomps on character's foot; character is thrown to floor; character hits their head (comical); parent smacks child; character recalls being belted as a child for misconduct; gory, brief depiction of murder victim; brief somewhat detailed report of violent death; character stabs a fantasy creature, blood mentioned; character is bit by fantasy creature; extended scene (about 1 page) characters and mythical creatures attack one another with weapons and magic; character threatens to melt another character; extended scene (about 2 page) fantasy creatures and characters fight one another with weapons and magic--blood, wounds, and casualties mentioned; character is threatened with a dagger; destruction of creatures and their home destroyed by fire; character makes an idle threat against another character; character is taken against their will to be a human sacrifice; brief somewhat gory depiction of character's face being burned, blood mentioned.
Sex/Nudity: A few mentions of virgin sacrifice; characters briefly flirt; characters imply that they may rape another character; married characters hug; characters discuss the report of rape; mention of prostitution; mention of a dead body being naked; sexual reference "lost my honor", "lovers", "balls"; character makes sexual jokes (about 4x); characters are flirtatious with one another; female admires a male character in a loin cloth; female character has non-descriptive sexual thoughts about male character; character holds another character's hand in a comforting gesture.
Mature Subject Matter:
Religious zealotry, human sacrifice, violent deaths, social prejudice.
Alcohol / Drug Use:
Few (less than 10) mentions of alcohol and adult characters drinking alcohol.
Reviewed By MaryLou