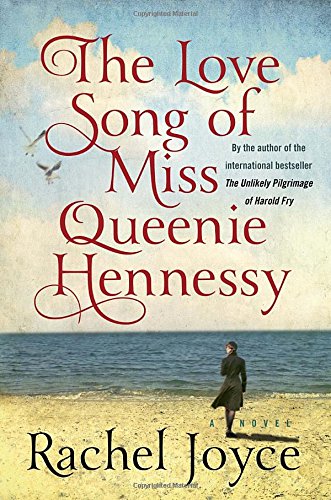 Publisher's Note:
From the bestselling author of The Unlikely Pilgrimage of Harold Fry comes an exquisite love story about Queenie Hennessy, the remarkable friend who inspired Harold's cross-country journey.

A runaway international bestseller, The Unlikely Pilgrimage of Harold Fry followed its unassuming hero on an incredible journey as he traveled the length of England on foot—a journey spurred by a simple letter from his old friend Queenie Hennessy, writing from a hospice to say goodbye. Harold believed that as long as he kept walking, Queenie would live. What he didn't know was that his decision to walk had caused her both alarm and fear. How could she wait? What would she say? Forced to confront the past, Queenie realizes she must write again.

In this poignant parallel story to Harold's saga, acclaimed author Rachel Joyce brings Queenie Hennessy's voice into sharp focus. Setting pen to paper, Queenie makes a journey of her own, a journey that is even bigger than Harold's; one word after another, she promises to confess long-buried truths—about her modest childhood, her studies at Oxford, the heartbreak that brought her to Kingsbridge and to loving Harold, her friendship with his son, the solace she has found in a garden by the sea. And, finally, the devastating secret she has kept from Harold for all these years.

A wise, tender, layered novel that gathers tremendous emotional force, The Love Song of Miss Queenie Hennessy underscores the resilience of the human spirit, beautifully illuminating the small yet pivotal moments that can change a person's life.
The Love Song of Miss Queenie Hennessy: A Novel
by Rachel Joyce
Overall Review:
If you haven't read The Unlikely Pilgrimage of Harold Fry, I would encourage you to do so. You can read this review first of course, but The Love Song of Miss Queenie Hennessey comes after the events that happen in Rachel Joyce's first book; reading them in order might be helpful. If you don't know why you should read these books in the first place, well let me tell you!--You probably haven't read anything else quite like them. I'm really not sure how to explain what exactly is different about these books, but Rachel Joyce definitely knows how to pull a reader into a story and have them hypnotized by the characters she portrays.
Queenie Hennessey is in trouble. She has received bad news and doesn't know how to handle it or who to turn to. So, she begins to write--and write, and write. Soon these letters will make their way across miles and miles, to a man who she used to know. But what good are letters when lives could be at stake? It turns out, quite a lot. Little does Queenie know, she is changing lives just by picking up her pen and paper, and writing. If only it were always that easy, right?
I was well aware of who Queenie was, since I had read The Unlikely Pilgrimage of Harold Fry, and I thought I knew enough about her. She was an interesting character, but not a whole lot more. However, Rachel Joyce has sprinkled her literary magic again and written a story of a hopeless woman, a man she loves, and a secret that I never would have foreseen. Basically, Ms. Joyce created a story out of something I never would have imagined would have been. Letter writers, lonely readers, and those who enjoy a little bit of a love story with their fiction will find a dear friend in The Love Song of Miss Queenie Hennessey.
Content Analysis:
Profanity/Language: 2 religious exclamations; 1 mild obscenity; 1 derogatory name; 7 scatological words; 13 F-Word derivatives. Note: "bloody" used as a profanity was not tallied.
Violence/Gore: A character is briefly described to be losing her breath before death; a woman is mentioned to miscarry her baby; a character cuts hands on some brambles; a character is mentioned to be dead; a man verbally threatens a woman; a character hangs self, this is mentioned several times with no detail; a character breaks items and destroys a building he owns in anger.
Sex/Nudity: A character refers to sex crudely; a character is mentioned to be carrying a lewd sex toy; a woman is referred to as a lesbian; a woman is mentioned to have large breasts that men notice; a woman imagines a man who is not her husband touching her sexually; a woman imagines a man lying next to her in bed and being nude; a man talks casually about sex; a man is reciting a poem and refers to "getting laid"; a woman is mentioned to be seen nude by another woman (non-sexual).
Mature Subject Matter:
Death, loss of a child, cancer, suicide, personal crises, divorce.
Alcohol / Drug Use:
Adults smoke cigarettes; an ash tray is mentioned to be in use and full of ash; an adult woman offers to buy a man a drink; a man drinks gin while taking prescription pills; a man is mentioned to drink to help drown his sorrows; a woman thinks a man has an alcohol problem; a minor is mentioned to drink beer.
Reviewed By Lydia