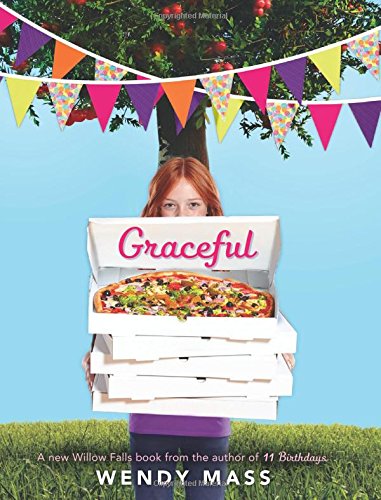 Publisher's Note:
An exciting new story in the bestselling Willow Falls series from Wendy Mass!

Angelina D'Angelo has left town to see the world. It's now Grace's turn to use her magic to protect the people of Willow Falls, and she is up to the challenge. This is her destiny, after all. But destiny is a funny thing-it doesn't always behave the way you'd expect it to.

Mysterious postcards from Angelina begin showing up in the mail, Grace's parents are freaking out with worry, and something BIG is coming to town that will affect everybody who lives there. But all Grace is powerful enough to do is turn leftover meatloaf into pizza.

Fortunately, she's not alone. She has Team Grace on her side! Amanda, Leo, Rory, Tara, David, and Connor know a thing or two about magic and how it works. But none of them are prepared for what's coming, and none of them know how to stop it. Life in Willow Falls is about to change forever.
This book was sent to Compass Book Ratings for review by Scholastic
Graceful
by Wendy Mass
Overall Review:
Once again author Wendy Mass takes us back to the magical town of Willow Falls in her latest novel, Graceful. This time around we learn more about Grace, a young girl who is learning to cope with some newly found magical powers as well as adjust to the notoriety that brings. From nervous parents to speculative classmates, the only thing that gets her through the day sometimes is the support from Team Grace. This team is a group of kids that have been drawn together in an almost magical way and they also can all sense or do magic; they all want to help Grace with her mission that came with the new powers. This is a great novel about friendship, trust and building up others. The 'voices' of each of the characters are realistic and easy to relate to, even in the throes of teenage drama. As a reader I found myself cheering for Grace and her friends as they worked together to overcome obstacles.
While Mass' writing is captivating, this is a series that would warrant reading in order. Having read the first book in the series, 11 Birthdays, I knew a little of what was going on, but I felt I was missing a lot of the back story and characters referred to events from other books. Also, I found the switching characters for each chapter as well as style (letter, text messaging, poetry, etc.) took a little getting used to. All in all though it was an enjoyable and somewhat magical book, this sadly ends this series.
Content Analysis:
Profanity/Language: None
Violence/Gore: None
Sex/Nudity: Boy and girl hold hands (2 times); boy and girl embrace; secondhand account of boy and girl holding hands.
Mature Subject Matter:
Death of family member, paranormal/magic.
Alcohol / Drug Use:
None
Reviewed By Sally