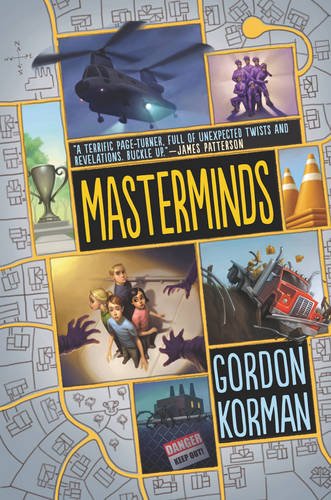 Publisher's Note:
Action-packed and full of unexpected twists, this new series from New York Times bestselling author Gordon Korman is perfect for young fans of James Patterson and John Grisham.
Eli Frieden lives in the most perfect town in the world: Serenity, New Mexico. In this idyllic place, every lawn is perfectly manicured and everyone has a pool and a tree house. Honesty and integrity are valued above all else. The thirty kids who live there never lie—they know it's a short leap from that to the awful problems of other, less fortunate places.
Eli has never left Serenity . . . Why would he ever want to? Then one day he bikes to the edge of the city limits and something so crazy and unexpected happens, it changes everything. Eli convinces his friends to help him investigate further, and soon it becomes clear that nothing is as it seems in Serenity. The clues mount to reveal a shocking discovery, connecting their ideal crime-free community to some of the greatest criminal masterminds ever known. The kids realize they can trust no one—least of all their own parents.
Masterminds
by Gordon Korman
Overall Review:
Mr. Korman does it again in the middle grade science fiction adventure/thriller Masterminds. This book has a diverse cast of girl and boy characters and is told in a narrative style that switches among the characters' points of views; this allows the reader to get to know each character well, to sympathize with them, and to even not like all of them. There is good intrigue and action, but the high marks for this book are primarily earned by the premise of the book--an intriguing ethical and social question that wasn't telegraphed to the reader on page one, but discovered step-by-step along with the characters. The characters range in age up to almost fourteen years old so this book has a wide age-appeal. In fact, it is hard to think of anyone that couldn't find something to like in this novel.
Content Analysis:
Profanity/Language: 2 religious exclamations.
Violence/Gore: Character crushes an insect in anger; destruction of property; scene of implied death of a character; characters hit other characters with gardening tools, drawing blood; character has angry thoughts of violence; characters throw/hit other characters with objects; characters are chased, minor injuries are incurred.
Sex/Nudity: None
Mature Subject Matter:
Scientific ethics, lying, censorship, personal crisis, crime.
Alcohol / Drug Use:
Character (tween/young teen) is given pills by adults to make them complacent and to make them forget things.
Reviewed By Cindy