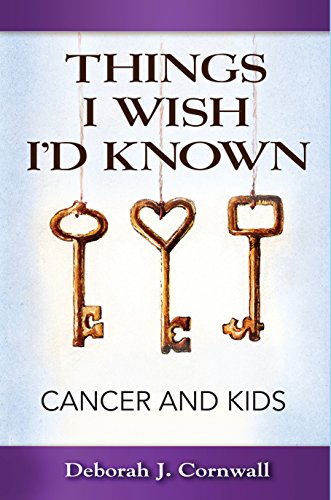 Publisher's Note:
This short book was written for cancer caregivers who are responsible for helping children understand what a cancer diagnosis means for a loved one or for themselves. The cancer experience shakes most caregivers to their core. It is even more compelling and poignant when it involves children. Thousands of families each year face this shocking reality. Based on interviews with caregivers who have first-hand knowledge, this book is intended to help anyone facing a cancer diagnosis affecting a child, either as the patient or as a member of a family. It offers advice and cites resources to help discuss cancer with children of different ages, manage the impact of the disease on their daily lives, navigate treatment for kids with cancer, and deal with children's grief in the event of a death in the family.

In short and direct language, it offers guidance and resources (both references and internet links) for communicating and taking action in five areas:


Sharing the News about Cancer
Managing the Impact of a Cancer Diagnosis for Children
When the Child is the Cancer Patient
Handling the Death of a Parent or Sibling
Other Resources for Caregivers Concerned About Cancer and Children

If you're pressed for time and need to know what to do on these topics, you can't go wrong with this book. The references provided are comprehensive and will save you time and energy as you navigate through a challenging situation.
For insights about the broader cancer caregiving process, see "Things I Wish I'd Known: Cancer and Kids," also by Deborah J. Cornwall.
This book was sent to Compass Book Ratings for review by Cadence Group
Things I Wish I'd Known: Cancer and Kids
by Deborah J. Cornwall
Overall Review:
Many may not know that cancer is the number one disease killer of children. In Things I Wish I'd Known: Cancer and Kids, author Deborah J. Cornwall skillfully informs readers of their options when it comes to kids who are facing cancer--whether the child is the patient or dealing with the effects of a family member who has been diagnosed.
Prudently arranged into easy to read and follow sections, Things I Wish I'd Known: Cancer and Kids, apprises readers of information (books, websites, and programs) that may be helpful to them in their current situation and the best way to manage their crisis. Each chapter depicts a key, which is a great analogy for the wisdom that is shared within the passage. These "keys of wisdom" help unlock the puzzlement of the often "what now" of the cancer stages--sharing the news, cancer treatment, and the aftermath.
Although this book is informative, it is not all facts and figures. Deborah J. Cornwall compiles firsthand accounts of individuals who have dealt with cancer, giving the book a more compassionate and heart-felt approach, helping readers feel more connected and less alone in their struggle.
Granted, the word "kid" is in the title, but this is a book for adults to advise them on how best to help the child in their life who is navigating the difficult conundrums of cancer. It is not suggested that this book be intended for children to read alone. Although there is no graphic material, it is not written in a manner that is child-friendly. If you are looking for a teen-affable non-fiction book that helps a child whose parent has cancer check out, My Parent Has Cancer and it Really Sucks by Maya and Marc Silver.
Content Analysis:
Profanity/Language: 2 religious exclamations.
Note: The word "hell" is used once, but not as an obscenity.
Violence/Gore: None
Sex/Nudity: None
Mature Subject Matter:
Cancer, death, grief.
Alcohol / Drug Use:
One brief mention of teen using marijuana.
Reviewed By MaryLou