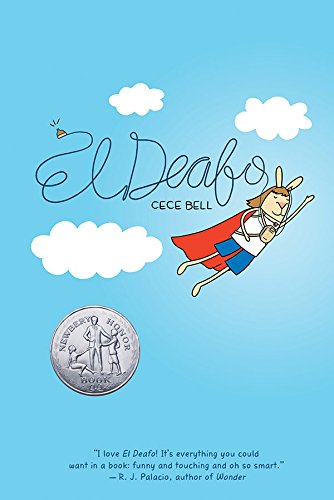 Publisher's Note:
A 2015 Newbery Honor Book Going to school and making new friends can be tough. But going to school and making new friends while wearing a bulky hearing aid strapped to your chest? That requires superpowers! In this funny, poignant graphic novel memoir, author/illustrator Cece Bell chronicles her hearing loss at a young age and her subsequent experiences with the Phonic Ear, a very powerful—and very awkward—hearing aid.

The Phonic Ear gives Cece the ability to hear—sometimes things she shouldn't—but also isolates her from her classmates. She really just wants to fit in and find a true friend, someone who appreciates her as she is. After some trouble, she is finally able to harness the power of the Phonic Ear and become "El Deafo, Listener for All." And more importantly, declare a place for herself in the world and find the friend she's longed for.
El Deafo
by Cece Bell
Overall Review:
Cece Bell, the author of EL DEAFO, was four years old when a bout of meningitis resulted in a hearing loss of severe to profoundly deaf. EL DEAFO is the story of her struggle with this disability during the first few years of elementary school as she learns to adjust to its challenges.
Because Ms. Bell chose a graphic novel format, certain writing elements are expected—interesting characters, fast pace, brevity, entertaining; however, can the reader also expect humor, sadness, courage? EL DEAFO is all that and more. The plot centers on the main character Cece as she not only experiences the normal problems of finding good friends and being accepted, but also the struggles that come with a hearing disability. To develop this story would be a challenge for any author, but Ms.Bell chose to develop her graphic characters in the form of cartoon characters that resemble skinny-legged people with rabbit ears which provides a heavy plotline with a needed bit of whimsy. Another asset of the book is the character development. In addition to Cece, one of the best characters is El Deafo, Cece's imaginary super hero, who is always there to help when things get tough.
A mission of this book is to educate young readers on just how tough a hearing disability is. Talking too loudly or too slowly, not being able to see a speaker's face, mustaches and beards, the pace of group discussions, darkness, excessive noise—all these are blocks to understanding. Then add the visible hearing aids with cords and batteries to that mix. One of those hearing aids is used in conjunction with a microphone a teacher wears; it is so powerful that Cece can hear what the teacher is doing outside the classroom. It provides one of the funniest incidents in the book and is the event that leads to Cece's real acceptance by her peers.
EL DEAFO is certainly deserving of the Newberry Honor award. My biggest recommendation is that it is enjoyable to all levels of readers. Not only did this reviewer enjoy it, but my 13-year-old granddaughter couldn't put it down. Then my seven-year-old grandchild insisted I read it to her not once but twice. I think that about says it all.
Content Analysis:
Profanity: 2 mild obscenities.
Violence: None
Sex/Nudity: None
Mature Subject Matter:
Family/Personal crisis, physical handicap.
Alcohol / Drug Use:
None
Reviewed By Marilyn