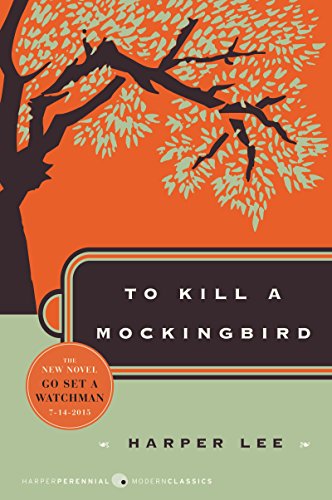 Publisher's Note:
Harper Lee's Pulitzer Prize-winning masterwork of honor and injustice in the deep South—and the heroism of one man in the face of blind and violent hatred.
One of the best-loved stories of all time, To Kill a Mockingbird has been translated into more than forty languages, sold more than forty million copies worldwide, served as the basis for an enormously popular motion picture, and was voted one of the best novels of the twentieth century by librarians across the country. A gripping, heart-wrenching, and wholly remarkable tale of coming-of-age in a South poisoned by virulent prejudice, it views a world of great beauty and savage inequities through the eyes of a young girl, as her father—a crusading local lawyer—risks everything to defend a black man unjustly accused of a terrible crime.
To Kill a Mockingbird
by Harper Lee
Overall Review:
This classic has been on the top of everyone's "To Read" lists for 55 years. Since there is a sequel coming this summer, everyone again has the opportunity to either pick this book up for the first time, or reread it before reading Go Set A Watchman.
To Kill a Mockingbird is a profound story told from the perspective of a child. Readers are able to look through a young girl's eyes for a view of problems that litter cultures throughout the world, even today. The audience follows the girl as she changes quickly in her childhood, while the world around her will not change fast enough. Throughout the hardest trials of this little girl's life, readers will also experience with her the pieces of joy that come with childhood. This book is written so beautifully that the whole world is just aching to read the sequel.
The audio version of this book was extremely well done. The reader has a southern accent, true to character, and she sounds as innocent as the child who is supposed to be narrating the story. While it may be difficult to hear some of the strong vulgar language spoken aloud, the audiobook is well done enough that it should be listened to if one has the chance.
Content Analysis:
Profanity/Language: 3 religious exclamations; 8 mild obscenities; 1 religious profanity; 41 derogatory names; 1 anatomical term.
Violence/Gore: A case of 1st degree murder is mentioned; a character describes the rumored gruesome appearance of another character; in a secondhand account, a character stabs another character, but doesn't kill him; there is discussion of a supposed rape; kids fistfight a few times; there is a scary scene where there is a mad dog, and a character has to kill it; there is a very lengthy courthouse scene about a rape case, although it is implied that the rape did not actually occur; it is implied that a father beat his daughter and possibly raped his daughter; a secondhand account of a man who is shot 17 times and dies; a man is stabbed and dies.
Sex/Nudity: Children lie and say they were playing strip poker, not meant to be sexual; a character makes an obscene speculation; accusations of rape in a court case.
Mature Subject Matter:
Racial conflicts, racial discrimination, racial prejudice, gender conflicts, socioeconomic conflicts, death, murder, mental disorders, rape, abuse.
Alcohol / Drug Use:
It is mentioned in a story that someone smokes a hookah.
Reviewed By Amber