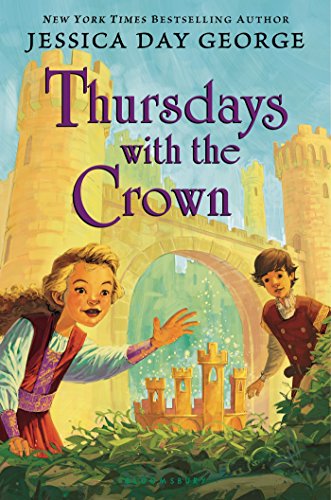 Publisher's Note:
Castle Glower has been acting weird, so it's no surprise when two towers transport Celie and her siblings to an unknown land. When they realize that no one from home is coming to get them, the kids-along with Celie's pet griffin Rufus-set out through the forest to figure out where they are and what's happened to their beloved Castle. Instead, they discover two wizards and an entire lost people, the oldest inhabitants of Castle Glower. And it seems they may know more of the Castle's secrets than Celie. But do they know how to get her back home?

This bestselling series continues with the story of the origin of Castle Glower. Readers who've been enchanted by the Castle's moving walls will be delighted by the Castle's rich and magical history.
This book was sent to Compass Book Ratings for review by Bloomsbury Children's Books
Thursdays with the Crown
by Jessica Day George
Overall Review:
Thursdays with the Crown is the third book in Jessica Day George's Castle series and picks right up with the cliff hanger that was the final scene in the previous book. The Castle has taken Celia, her siblings, and her friends on a wild adventure that leaves them wondering if they will ever get back to their homeland and if they will ever find the answers to the questions that seem to be multiplying. With battling wizards, griffons and the search for the 'Eye of the Castle', they have their work cut out for them. George does an amazing job writing characters that make the story so compelling and relatable, and one of the most intriguing is the character of the Castle, that seems to have a personality of its own. This wild adventure will have the reader turning pages to find out what will happen next and whether or not they make it home again.
The novels in this series, including Thursdays with the Crown are a welcome addition to the fairytale genre because they are fresh and new. This isn't the typical fairytale, but it has the familiar trappings of one so it will appeal to readers who hesitate at broadening their horizons. All the while readers are being taken on an exciting adventure by a castle, learning the value of family and friendship and the importance of staying true to who you are. I highly recommend this novel as well as the others in the series to anyone who wants to be drawn in to a thrilling adventure and it should appeal to all: child and adult, male and female alike.
Content Analysis:
Profanity/Language: None
Violence/Gore: Secondhand account of character hitting head and receiving a concussion; secondhand account of people and animals dying from a plague; character attacked by a mythical creature--no injuries; mention of someone being eaten by a mythical creature (non-detailed, one sentence);person thrown across the room by another; account of characters walking into a tomb and seeing what appears to be a preserved corpse; account of seeing a dead mythical creature that has been shot with arrows; characters knock over another person to protect something that is important; character threatens another with a knife; mythical creature scratches a character; character starts a fire to keep others away; 2 characters ask another to cut their arm to stop the spread of disease, this is done and blood is then smeared on a magical stone in a ritualistic way; character pushes another down.
Sex/Nudity: 2 characters hold hands; 2 characters embrace; secondhand account of characters kissing.
Mature Subject Matter:
Death, deadly disease.
Alcohol / Drug Use:
None
Reviewed By Sally